Aldi sells strong power generators at a hammer price on Thursday gameandnews
If you want to protect yourself in the event of an emergency, a power generator usually forms the basis so that you are supplied with energy. You can soon buy the Scheppach SG2500i again in the Aldi online shop.
Aldi online shop sells power generator for 399 euros
Power generators are currently in high demand. In addition to solar generators that are powered by the sun and have a battery, power generators that run on gasoline are also a good way to prepare for a possible blackout. The Aldi online shop sells from February 23, 2023 the Scheppach SG2500i for only 399 euros plus shipping costs (see Aldi online shop). The offer can also be seen in the prospectus: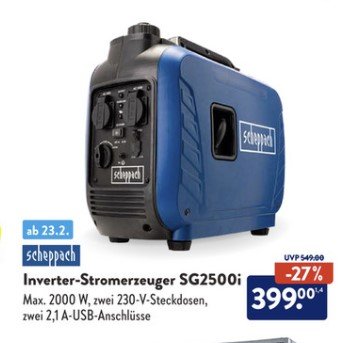 The power generator is sold 30 euros cheaper than last time, making the Aldi online shop the cheapest provider. At Norma24 you have to pay 449 euros plus shipping costs for the same model (look at Norma24). Dealers charge around 448 euros via Amazon (see Amazon). So if you want a slightly more powerful power generator that doesn't cost too much, then you should go for it.
You can use a solar generator as an alternative:
Scheppach SG2500i: What does the power generator do?
The Scheppach SG2500i offers a Output of up to 2,000 watts and can therefore also operate more powerful devices such as machines. Two 230 volt sockets are available. In addition, you have two USB ports available, to which you can connect your mobile phone directly, for example. The modern inverter technology ensures that a constant voltage is available and that you can also connect sensitive devices such as laptops, tablets and cell phones.
The Scheppach SG2500i fits 4.1 liters of petrol and 350 milliliters of oil. The air-cooled 4-stroke engine with 79 cubic centimeters delivers 3 hp and is 64.1 dB loud. It has a transport handle and weighs 17.5 kg. Under At full load, the power generator consumes 1.27 liters per hour. At Amazon, this device achieves 4.3 out of 5 possible stars (look at Amazon). Most buyers are therefore very satisfied.
Don't want to miss any more news about technology, games and pop culture? No current tests and guides? Then follow us
Facebook
or Twitter.