B196 Driver's License: Cost, Requirements & Driving Lessons gameandnews
Since 2020, smaller motorcycles with 125 cubic centimeters have been flying high – whether electric or with a combustion engine. This is partly due to the B196 driver's license. But what is behind the identification number? How much does the driving license cost, what requirements do you have to meet and how many driving lessons do you have to complete for it?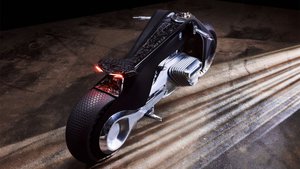 B196 extension: 125cc with the car driver's license
Since the introduction of the B196 extension, driving schools have been overrun. Experienced drivers can get on a "real" motorcycle without much effort and significantly cheaper than with the A1 driving licence. All motorcycles belong to class A1 with a displacement of up to 125 cm³ and an engine output of 11 kilowatts or 15 hp. This only applies as long as the ratio of performance and curb weight is no more than 0.1 kilowatts per kilogram (source: ADAC).
The light motorcycles may (still) exclusively within Germany be driven, but a European tour is a bit difficult with small engines anyway. With the 4th Driving License Directive, however, the EU still wants to offer B196 drivers the option of driving their light motorcycle throughout Europe in 2023 (source: World).
A1 motorcycles with the B license: Requirements, lessons & costs
You can enroll in the extension course if you at least 25 years are old. You must also have had your car driver's license (i.e. class B) for at least 5 years without interruption.
In order to get the code B196 entered on the back of the driver's license, you need four theoretical lessons each lasting 90 minutes five practical driving lessons. Each of them is also 90 minutes long. In addition, neither theoretical nor practical exams are necessary – a dream for drivers who are afraid of exams. After participation, you will receive a confirmation that you then only have to submit to your driver's license office in the course of registration.
Now the only question is how much you have to pay for it. Of course, the costs vary depending on the driving school and sometimes vary greatly depending on where you live. Some companies also offer intensive courses, for which you pay more again. While you have to put almost 3000 euros on the table for an A1 driver's license, depending on the location, the B196 often costs you only 600 to 1000 euros (Source: check24). But there are already driving schools that have already raised the price to 1200 euros due to inflation. You should also consider the registration fee at the office – depending on the district administration department, this is around 40 to 70 euros.
Note that you are on a B196 license can't build, so it is not to be equated with the A1. On the other hand, you could alternatively do the A license directly if you want more. Direct entry is also possible here from the age of 24, even if you have not completed the previous levels (A1 and A2).
The ADAC driving license app is available for Android and iOS in the Play Store or App Store: