Build your own balcony power plant: you need this gameandnews
Balcony power plants are currently very popular because you can easily save money by producing your own electricity. In contrast to a large photovoltaic system on the roof, you can connect a mini solar system yourself. If you want, you can also put together a balcony power plant yourself. I'll tell you now what you need and whether it's worth it.
The prices for balcony power plants have fallen massively in recent weeks. You now only pay 550 to 600 euros for a complete set with two solar cells, inverter and cable. But these are ready-made packages where you cannot select the solar modules and the inverter. The same applies to the cable length, which is usually 5 meters. If you want more individuality, you can assemble the set yourself.
solar cells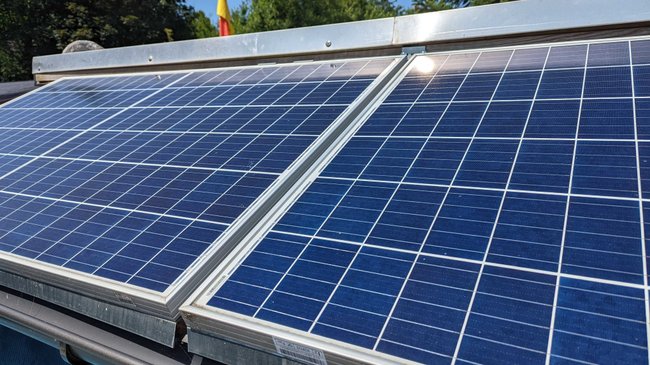 The good thing about a balcony power plant is that it uses the normal solar modules that are also installed on the roof. So there is one Huge selection of sizes, power levels, manufacturers and colors. Complete blacks are usually a bit more expensive than the blue models. I currently advise you to take two solar modules that together achieve over 800 watts. So you are already prepared for the future and only have to exchange the 600 watt inverter for an 800 watt inverter when the new rules apply.
You can buy them various solar cells on eBay (look at eBay). Solar dealers offer their modules there. The choice is huge. You should definitely pay attention to the shipping costs, because the solar modules are quite large and delivery by a freight forwarder can cost quite a bit.
inverter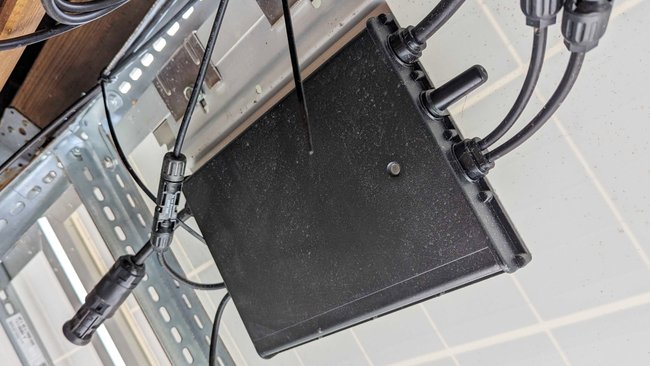 In addition to the solar cells, you need an inverter. There are various models that are currently not allowed to exceed a power output of 600 watts.
In my case, that's the one Hoymile's HM-600, which I can also recommend in principle (look at eBay). After almost two years, it is now working without any problems. The only things missing are WiFi and an app for evaluating the data. I use a WLAN socket from AVM together with the Fritzbox. But there are also much cheaper solutions.
I can also recommend that Deye SUN600, which is equipped with WiFi and an app. You can read directly on your cell phone what the balcony power plant is doing and analyze everything. (look at eBay).
cable length
A balcony power plant must not necessarily be installed on a balcony railing. I attached my mini solar system to a carport. Then I built balcony power plants on garden huts or on the garden fence. Wherever the sun is shining and there is space, such a system can be installed. You have to determine the cable length accordingly. Usually 5 meters is enough. However, if the socket is far away, then you should buy a longer cable, because an extension cable is not allowed. The BC01 plug is connected to the inverter and the Schuko socket (look at eBay).
mounting material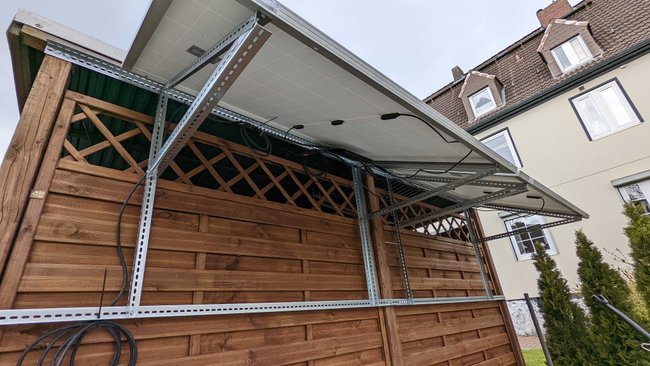 Depending on where you want to use your mini solar system, you need different fastening material. You can build such a bracket yourself from metal profiles or use ready-made solutions. But you have to make sure that the construction is safe. A solar module like this weighs 20 kg and must not fall down (look on eBay).
Advantage of a complete set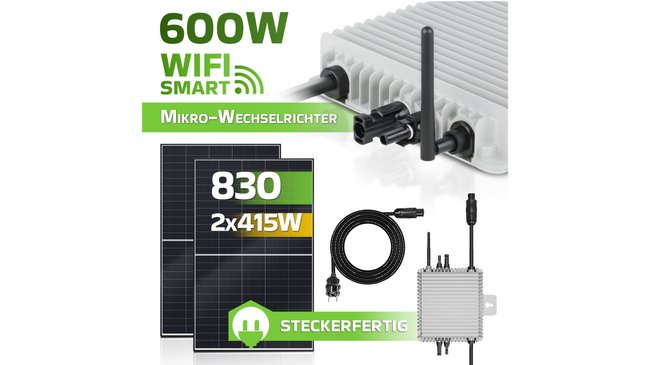 You can put together your own balcony power plant according to your needs. This can be worthwhile if you want certain components. In terms of price but should be there by now no big difference anymore to rule a complete set. The prices have fallen so much that you only have to pay 550 euros. In addition, you get everything from one source and therefore only have one contact person if something breaks.
If you want to use a promotion for your balcony power plant, you should also find out whether this is only valid for complete sets. There are different regulations.
Don't want to miss any more news about technology, games and pop culture? No current tests and guides? Then follow us
Facebook
or Twitter.