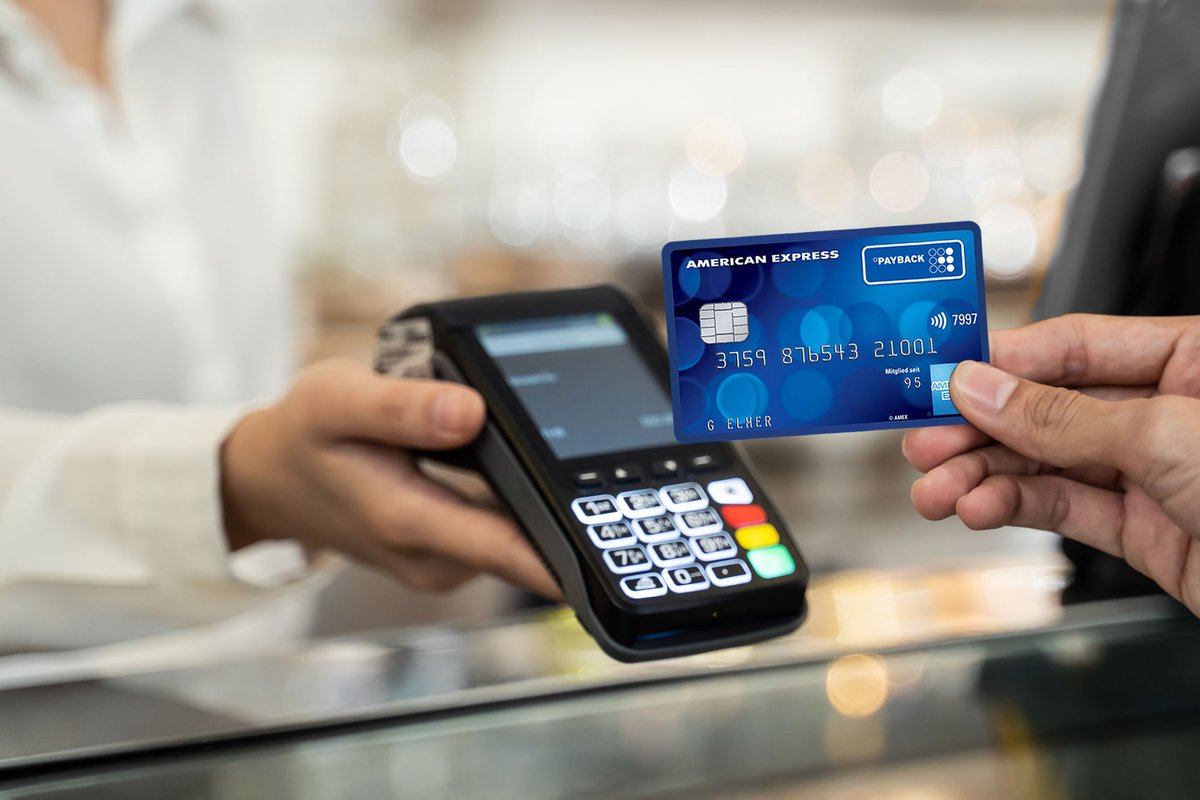 Do you simply want to make contactless payments with your smartphone or smartwatch in the future and get part of the amount back as cashback each time? Then the free Payback credit card from American Express is just right. As a bonus, there is just 40 euros starting credit. Here you get the details.
American Express: Credit card with Apple & Google Pay + 40 € free
If your looking for one free credit card are, with which you can easily contactless and via Apple & Google Pay pay and collect 0.5 percent cashback and Payback points each time, you should take a closer look at the American Express offer. Currently there is Payback credit card including a starting balance of 4,000 Payback points, which corresponds to 40 euros (See offer at American Express). The points will be credited to you approx. 4-6 weeks after the card is issued. Payback points can be viewed as cash, as they can be easily and directly converted into shopping credit for supermarkets, for example.
Payback credit card: To the offer
The credit card is permanently free. In addition, you do not need to open an additional checking account: simply connect the credit card account to your existing account. The expenses are interest-free with a payment term of up to 30 days and the credit card is compatible with Apple and Google Pay. With the app (Android / iOS) you can keep an eye on your transactions in real time at all times, you can block and unblock the card immediately in an emergency and enter several cards in it at the same time.
Payback American Express: These are the advantages and disadvantages of the free credit card
The credit card has some advantages, but also some disadvantages. Below we list the details of the free credit card for you.
Advantages
Disadvantages

No annual fee
No extra checking account required
4,000 points start credits, Initial balance
Toll-free payment in the euro zone
Apple and Google Pay-capable
Useful app for clear administration included
0.5 percent cashback on all sales in the form of Payback points

Withdraw money: It will 4 percent of the amount and at least 5 euros due
When withdrawing cash from foreign currency fall again 2 percent fees at
Acceptance of American Express somewhat limited
Payback credit card: To the offer
Is the American Express Payback credit card worth it?
If you're just looking for a credit card that you can use for contactless payments in the EU, it's worth it American Express Payback just because of that 40 euros starting credit. But the real deal is that permanent cashback: The 0.5 percent are already lapping up neatly over time. In addition, there are the normal points with the Payback partners. I've been using the card myself for about a year, now I use it to pay for almost everything and I've already gotten points worth more than 100 euros back. The acceptance from American Express is also evident better than initially thought. There is hardly a larger shop where the card is not accepted. The use of the card is particularly worthwhile for larger purchases such as holidays: Here you can also benefit from the payment term and do not have to have the money ready at the moment of purchase.
If you are looking for a VISA card that you can use to pay and withdraw cash abroad for free, the Hanseatic credit card is more for you.
Don't want to miss any more news about technology, games and pop culture? No current tests and guides? Then follow us
Facebook
or Twitter.