Confident or arrogant? Football boss sees FIFA ahead without EA gameandnews
The separation between the world football association FIFA and EA Sports was anything but peaceful – now FIFA boss Gianni Infantino is stepping in again and making a clear declaration of war on EA.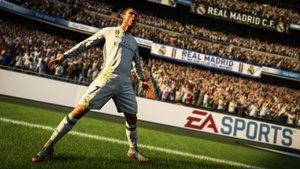 With FIFA 23, the 30-year cooperation between the world football association and the publisher Electronic Arts comes to an end. Partners will become competitors in the future and FIFA boss Gianni Infantino sees the association as having a clear advantage. In his opinion, will the next FIFA game the fight against EA's soccer simulation clearly decide for yourself.
FIFA 25 aims to compete with EA Sports FC
Gianni Infantino was re-elected as FIFA President on March 16 – the Swiss ran without a challenger. As part of the celebrations Infantino also commented on the future of FIFA video games and was confident. According to a tweet from Martyn Ziegler, chief sports editor of The Times newspaper, Infantino said the new FIFA – 25, 26, 27 and so on – will forever be the best game for boys and girls.
With this statement, Infantino sends a clear signal to former partner EA and reinforces the claim he made back in 2022. Just like back then, however, he leaves his thesis in the room without any basis and simply points out that there should be news about it soon. What he does mean, however, is that the next FIFA will probably not be on the market until 2024 will come.
Can FIFA really work without EA?
Without a developer for FIFA 25 being known, nothing can be said about the upcoming project – but it can at least be doubted that top dog EA can be contested for the football crown. With his statement, Infantino would like to emphasize that only where FIFA is written on it is really FIFA in it – however, the President overlooks that this is by no means a seal of quality. FIFA is an opaque and profit-oriented organization notorious for its corruption scandals and which has just unrivaled re-elected its extremely controversial president with applause. FIFA 25 could do well to distance itself from that as much as possible.
Another FIFA competitor recently celebrated an impressive milestone:
Don't want to miss any more news about technology, games and pop culture? No current tests and guides? Then follow us
Facebook
or Twitter.