Connect cell phone to stereo: 4 ways to achieve your goal gameandnews
How do you get music and podcasts from your Android smartphone or iPhone onto an old stereo system? We show the possibilities and their respective advantages and disadvantages.
Modern stereo systems have no problems with smartphones: Thanks to integrated Bluetooth or even Spotify Connect, they are well equipped. But let's take a look at older stereo systems that predate smartphones (and tablets). Many a noble hi-fi tower from the 90s sounds a lot better today with its large speakers than the latest Bluetooth box – so it would be a shame to let the proven veteran gather dust just because the music is now more from cell phones than from CDs comes. Below a Overview with gadgets from different price ranges, which enable the playback of smartphone content on old (analogue) stereo systems.
cable (+ adapter)
Some smartphones still have a round headphone output ("jack socket"). Then the easiest and cheapest way to stereo is a Jack to RCA cable (also to be found under "3.5 mm jack plug to 2 x cinch plugs"). The jack plug goes into the mobile phone, the two cinch plugs ("RCA connector", red and white) into the line or CD input of the amplifier/receiver of the stereo system. This is what it looks like: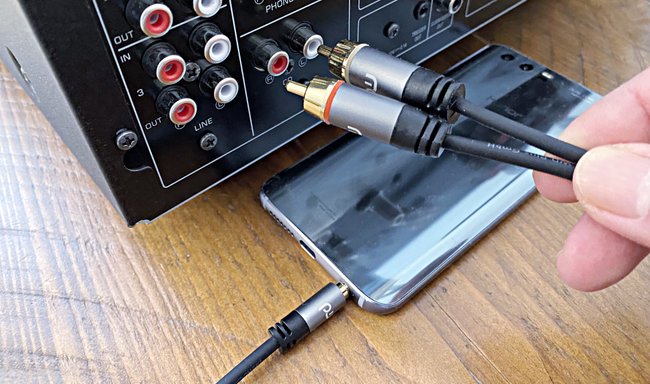 However, some smartphones do not offer a headphone output – then you have to use an adapter as well. Android phones can be expanded with a USB-C to jack adapter, iPhones need a Lightning to jack.
Advantages:
Disadvantages
Inflexible and limited range because it is wired
Sound quality extremely dependent on the phone's headphone output
Which model is good?
I can do it CSL RCA to jack cable recommend. It is robust and available in different lengths. I opted for a rather long version at 7.5 meters (around 13 euros) – so I can run the cable along the edge of the living room to the coffee table where I have my cell phone.
If you value the highest sound quality, you bet additionally to an external digital-to-analog converter (DAC). The Audioquest Dragonfly Black and a USB OTG adapter are connected to the mobile phone and are guaranteed to sound better than the built-in jack socket. With iPhones, a USB camera adapter is required instead.
Bluetooth receiver
Bluetooth is integrated into all standard smartphones, so they can transmit sound wirelessly to a receiver. So the old stereo needs one Bluetooth receiver: A small box that receives Bluetooth and passes it on to the system via cinch. You have to reckon with losses in sound quality (data compression) – but modern standards such as AAC and aptX HD effectively counteract this weak point (provided that the transmitter and receiver support the codec).
Advantages:
Wireless
Works with all smartphones
Disadvantages
range limited
All mobile phone sounds (including ringtones) are transmitted
Transmission may be lossy (compression)
Which models are good?
The selection is huge – I'd be happy to recommend the older, but tried and tested one Bluetooth audio receiver from the well-known accessory manufacturer Logitech. This supports multipoint Bluetooth and can therefore remain connected to two devices (e.g. mobile phone and tablet).
A significantly more expensive one alternative is the Auris Flower Perwhich is aimed at demanding users with Bluetooth 5.0, LDAC, aptX HD and OLED display.
WIRELESS INTERNET ACCESS
Sound can be transmitted wirelessly via the home WLAN. This way even offers some advantages over Bluetooth, the range tends to be higher and better sound quality possible. The two most well-known standards are included air play from Apple and Google cast. But other systems like Musiccast (Yamaha) and HEOS (Denon) offer themselves. You also need an additional gadget to turn an old stereo system into a WLAN receiver. A powerful and seamless WiFi network in the apartment is fundamentally important for WiFi music streaming, otherwise dropouts can occur.
Advantages:
Wireless
Lossless transmission possible (CD quality)
Disadvantages
Which model is good?
I recommend that AirLino max from Lintech. This small box supports WLAN with 2.4 and 5 GHz and since firmware version 6.3.0 is also compatible with Apple Airplay 2 (including multi-room functions). An audio adapter (3.5mm jack socket to 2x cinch) for connection to the stereo system is included in the scope of delivery.
Comparable alternatives: Yamaha WXAD-10, Sonos Port, Belkin SoundForm Connect
network player
If you don't like dongles, get a real hi-fi component and add one level to the existing stereo system tower. This is relatively expensive, but promises the best sound quality and maximum flexibility. The latter applies when you get one Streamer (network player) which offers further functions (e.g. DAB+, internet radio, CD, USB).
Advantages:
top sound
Depending on the model, many other options (e.g. DAB+)
Disadvantages
Relative expensive
Another component on the device tower
Which model is good?
In the audiophile world, the Bluesound Node (3rd generation, 2021) received multiple praise and top marks in tests. This is a fully-fledged hi-fi component that is optimized for the highest sound quality. Control is via the controller app (iOS, Android, Kindle Fire, Windows, macOS), via the touch field directly on the device or with any adaptive IR remote control. In addition to WLAN, the node also supports Bluetooth.
A look at the back leaves nothing to be desired, as all the important connections are there:

Comparable Alternatives: Sonos Port, Cambridge Audio CXN (V2)
If all these options don't convince you, then maybe the old stereo system needs to be retired after all. Space-saving and functional: Modern WiFi speaker from Sonos, Bose & Co., in which amplifiers and network players are already integrated. More about this in our large purchase guide:
Don't want to miss any more news about technology, games and pop culture? No current tests and guides? Then follow us
Facebook
or Twitter.