Discounter sells kitchen light for 9.99 euros gameandnews
Saving electricity is doubly worthwhile: it's easy on the wallet and on the environment. Lidl is offering the right kitchen light for this this week. It saves up to 85 percent energy and, thanks to the 16 LEDs, also illuminates dark corners well. The customer reviews speak a clear language.

Electricity has become a luxury good in Germany. With current prices well over 30 cents per kilowatt hour (kWh), you think twice about which light switch you use. But you don't have this freedom of choice in the kitchen – after all, vegetables are difficult to cut in the dark. Lidl is offering a solution to the problem this week.
Lidl sells LED light strips for 9.99 euros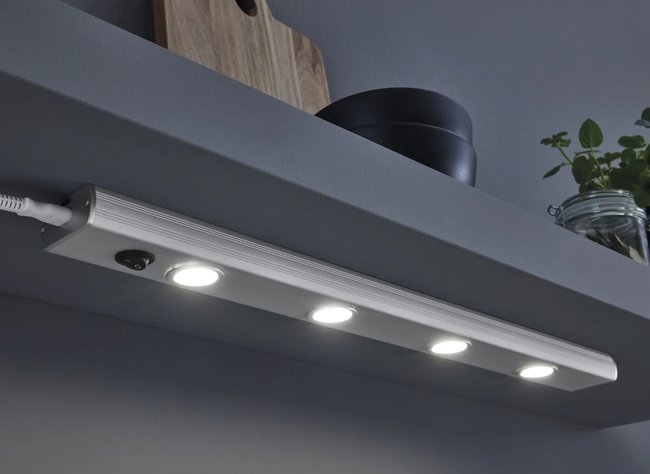 From next Thursday (March 23rd) the discounter will have one LED light bar for 9.99 euros on offer. The offers 16 bright LEDs and is suitable for substructure or wall mounting. A supply cable (2 meters) and mounting material are already included in the scope of delivery.
Compared to a regular 65-watt light bulb, according to Lidl, the LED light bar should save up to 85 percent energy. So, in times of high electricity prices, it's cash. The bulbs achieve a maximum output of 9.5 watts and produce a neutral white light. Overall, a service life of 50,000 hours is promised, which corresponds to around 5.7 years – of course only if you leave the LED strip switched on all the time.
How well do you know Lidl?
Best reviews from Lidl customers
The LED light strip is really popular with Lidl customers. With around 150 ratings, the kitchen light has an average rating of 4.8 out of 5 possible stars.
The overwhelming majority even gives the best possible rating of 5 stars. "Functional, no frills, easy to assemble, fully serves its purpose," writes one customer. Another, on the other hand: "Super illumination on the worktop, cheap and great!"
Negative reviews, on the other hand, are rare. For example, one customer complains that the light output is too weak to enable indirect lighting behind the TV.
Anyone who wants to see for themselves can do so from March 23rd. The kitchen light can already be ordered online (view it at Lidl), but it will only be delivered on the key date of availability in the branch. When ordering online also come 5.95 euros shipping costs added.