EA and Sony have to take a hard setback gameandnews
An Austrian court has ruled in a case about loot boxes in FIFA Ultimate Team mode – and this could soon pose major problems for EA. Currently, however, Sony has to pay for it first.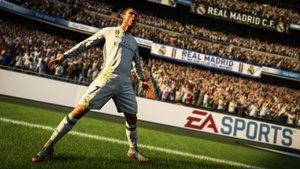 The loot box mechanics in the FIFA series have repeatedly caused scandals and protests in the past – now an Austrian district court has ruled that the card packs available for purchase in Ultimate Team mode are illegal gambling. With it could threaten EA's money printing machineeven if initially only PlayStation is asked to pay.
FIFA Ultimate Team: Court demands repayment from PlayStation
The Hermagor District Court in Carinthia, Austria, has decided that the FIFA Ultimate Team Packs are to be classified as games of chance that require a license. In the present case, which was already reported on in 2020, an Austrian player complained because he gambled around 400 euros with the loot boxes in FUT mode. However, the party in the dock was not publisher EA but Sony, because the contract of sale in the PlayStation Store was concluded with Sony has been. However, the case could of course also have far-reaching consequences for Electronic Arts.
The Carinthian court decided that Sony had to reimburse the plaintiff EUR 338.26 because Sony does not have a gaming license, but the loot boxes fell under Austrian law. The contract of sale between the player and the PlayStation platform would thus be void. (Source: GamesEconomy)
Loot boxes in FIFA: Judgment could have major consequences
However, the verdict on the card packs in FUT is not yet final – it can be assumed that Sony will appeal against it. However, if the Ultimate Team Packs are actually rated as gambling in Austria in the final instance, this could have snowball-like consequences. First of all, so far over a thousand different FIFA players have contacted the litigation financier Padronus with similar lawsuits, in which it sometimes it would cost significantly more money than just 400 euros. Sony could therefore see a large number of lawsuits being rolled out.
For EA, the loot boxes would probably also cause some problems, especially as an Austrian precedent possibly also in other European countries like Germany could lead to a rethinking of loot box mechanics. After all, many opponents have been calling for a ban on microtransactions of this kind for some time, or at least for stronger protection of minors for affected games.
In our video we give you an overview of the biggest scandals surrounding microtransactions:
Don't want to miss any more news about technology, games and pop culture? No current tests and guides? Then follow us
Facebook
or Twitter.