Here you can get the same mini solar system much cheaper gameandnews
If you want to buy a balcony power plant, then you should pay close attention to the price so that the investment is worthwhile in the long run. The cheaper you buy, the sooner you make a profit. A balcony power plant is now also being sold at MediaMarkt, but it costs 120 euros less elsewhere. And even from the same dealer.
Buy a balcony power plant at MediaMarkt
If you are currently looking for a mini solar system, then the offer is now gigantic. You can also find some balcony power plants at MediaMarkt, but these are not sold directly by the electronics retailer, only via their platform. I came across an offer that is quite interesting from a purely technical point of view. You get a complete set with two 415 watt solar panels (altogether 830 watts), a 600 watt inverter from Deye, which also has WiFi integrated so that you can access the data directly via the app, a Schuko cable with 5 meters and end cap for 799 euros (look at MediaMarkt).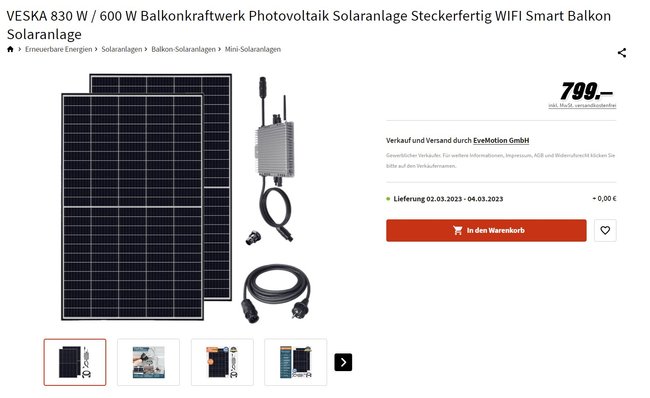 Somehow, the set and the dealer looked familiar to me from my article on the current prices of balcony power plants. And indeed, because the same dealer sells it on eBay exactly the same set for only 679 euros (look at eBay). If you were to order via MediaMarkt, you would have gotten the same goods for 120 euros more. While MediaMarkt's range is rather weak, I can only recommend eBay's range. For 680 euros you get a stable complete set with solid hardware. Shipping costs are also not incurred.
A balcony power plant is worth it:
Lots of overpriced deals floating around
As already mentioned, many solar dealers are on eBay and sell their balcony power plants there at very reasonable prices. Although other retailers have discovered the market for themselves with Netto or Otto, you should always compare the prices. You shouldn't pay more than 700 euros for a balcony power plant at the moment. Tend to be significantly less. Also check beforehand whether you have subsidies for mini solar systems.
Don't want to miss any more news about technology, games and pop culture? No current tests and guides? Then follow us
Facebook
or Twitter.