Hogwarts Legacy – Change Appearance & Use Transmog gameandnews
In Hogwarts Legacy you can subsequently change your appearance and also customize the hairstyle and appearance with a transmog feature. Because the game gives you, among other things, the option to distinguish between equipment and cosmetic clothing. You can find out here how you can change your appearance and also make basic changes to your face, hair and voice.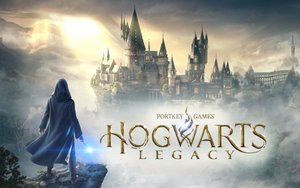 Languages:German English
Platforms:Windows PC, Xbox One, PlayStation 4, PlayStation 5, Xbox Series X
Change appearance and appearance afterwards
When creating your Hogwarts Legacy character, you already have tons of options to adjust your general appearance and details such as hairstyle, face shape and scars/freckles. Note here that after character creation you can change some appearances afterwards and others not.
| | |
| --- | --- |
| Can be changed later | CANNOT be changed afterwards |
| Clothing | Surname |
| hairstyle | Voice (Only the pitch of the voice can be adjusted) |
| Hair color | face shape |
| complexion | Body |
| Freckles/Birthmarks | |
| scar | |
| eye color | |
| eyebrows | |
Change clothes without losing stats (Transmog)
Your appearance and appearance is also affected by your gear. After receiving your field manual from Professor Weasley early in the game and finding the first manual page, you can also access the equipment menu. Here you have six equipment slots for handwear, facewear, headwear, neckwear, cloaks and cloaks, and the outfit underneath.
Everything you equip here will also be visible on your character. However, you can also determine the appearance independently of the equipped part. For example, if you want to use a piece of gear that has good stats but you don't like the way it looks, you can apply the appearance from another piece to it. This feature is called transmog and is found in many video games of this type.
Important: Before you can customize the appearance of an equipment slot, at least something in the slot must be equipped. Then hover over the slot and select the "Change Appearance" option (Square/X button on console versions).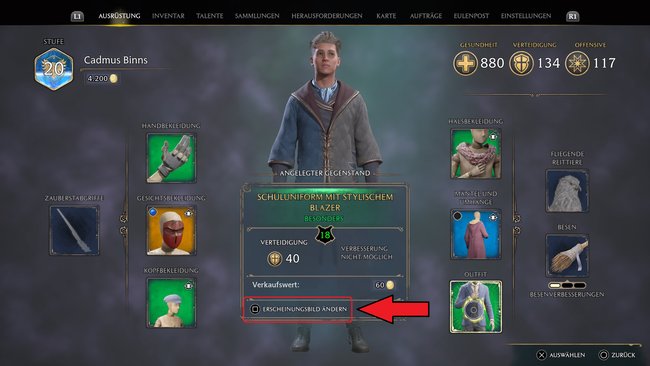 In the next menu you can now apply the appearance of your favorite clothing items to the piece of equipment. Incidentally, your outfits from the digital deluxe content and from the pre-order bonus are also displayed here. A customized piece of gear is marked with an eye icon. You can also reset the appearance in the same menu.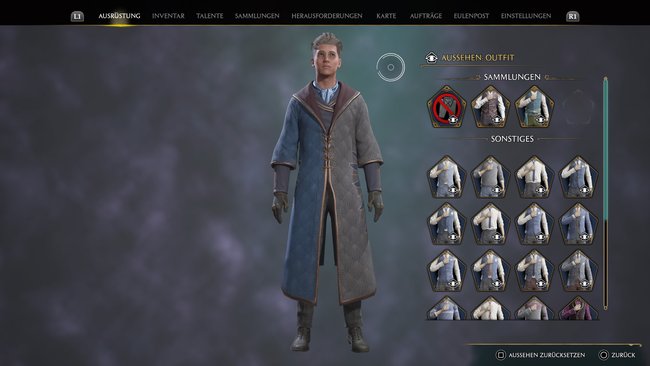 Put the hood on and take it off again
Incidentally, you can only use the same principle in the slot with the cloaks and capes put your hood on and take it off again. To do this, hover over the cloak and cloak slot and press the Triangle/Y button on console versions to use the hood.
Change face, eyebrows & hairstyle
If you want to make more fundamental changes, go to Hogsmeade in the game. The main missions will automatically take you to this village northeast of Hogwarts early on. A little north in the village you can discover "Madam Snellings Lockenporium" (note the scissors symbol on the map). This is the barber shop in the game.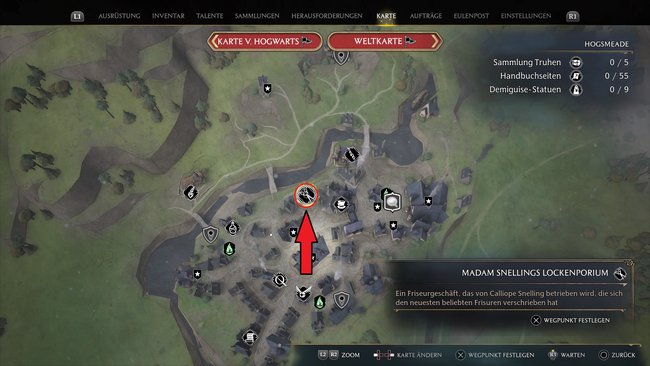 Note that every visit to the hairdresser costs you 20 gold pieces. Speak to Calliope Snelling in the store to change the following about you:
Hairstyles: haircut and hair color
face color: Complexion, freckles, moles, scars and marks
Eyebrows: Eye color, eyebrow color and eyebrow shape
Can you change gender and name?
The barber does not replace the basic character editor in the game. This way you cannot change your chosen nameyou would have to start a new game for better or worse. You can't change your gender either. If you've been paying close attention, you'll start out with just a pre-made look that you can then customize. There is no subsequent gender selection in the game.
Change your voice later
If you changed the pitch of your voice when selecting a character, you can adjust this afterwards. Many players find the voice weird after changing it at the beginning. Under Settings → Audio → Pitch you can adjust the slider for it. It is best to leave it at the middle level, then your voice will sound most natural.
Don't want to miss any more news about technology, games and pop culture? No current tests and guides? Then follow us
Facebook
or Twitter.