Mandrakes and Venemosa Tentacula are among the magic plants in Hogwarts Legacy, which you can use effectively in battle and must obtain for Professor Garlick's Task 1, among other things. At this point we will show you where you can get mandrakes or buy the seeds for them and find the powerful fighting plant Venemosa Tentacula.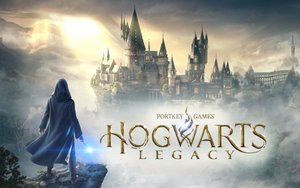 Languages:German English
Platforms:Windows PC, Xbox One, PlayStation 4, PlayStation 5, Xbox Series X
Find and get Mandrakes
The famous screeching mandrake plant can be used to your advantage in Hogwarts Legacy and used in battle against enemies. You can either buy mandrakes, acquire the seeds for them and plant them yourself, or simply find them in the game world.
First, we want to tell you a location for mandrakes, which is located just north of Hogwarts in the forbidden forest. Just head to the spot on the map marked below to quickly bag 3 Mandrakes.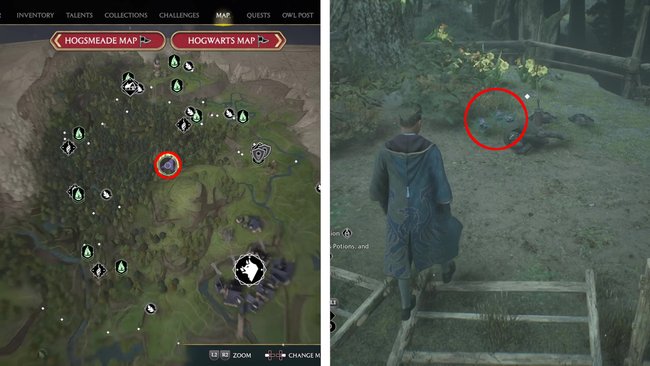 Buy mandrake or buy seeds for it
The easiest way is to buy mandrakes. Go to the Water plantain and death cap shop in the far north of Hogsmeade, the village northeast of Hogwarts. In this shop you will find everything you need for magic plants.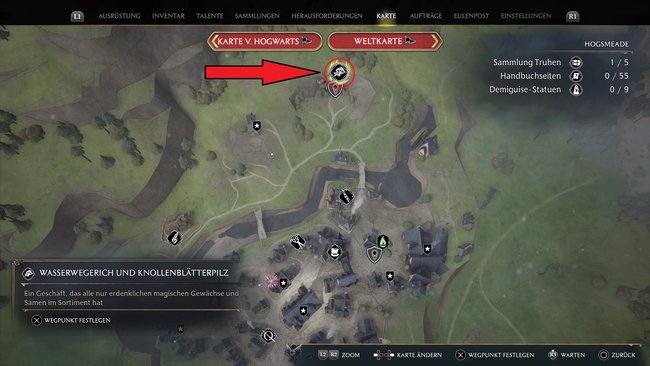 Under the "Combat Tools" category, you can buy two mandrakes for 500 gold pieces. If you are short of money, we recommend opening the chests and crates with eyes, which will give you 500 gold as a reward.
In the long run, however, it is cheaper if you use the Buy mandrake seeds and plant them yourself. For this you buy the corresponding seed packet for 800 gold. You have to plant mandrakes on a planting table with a small pot and then wait ten minutes before you can pick them.
You will automatically place a planting table with a small pot as part of the main missions after unlocking the Room of Requirement. But you can also find one earlier. Just go to the Greenhouses in the southeast of Hogwartsthere is also one.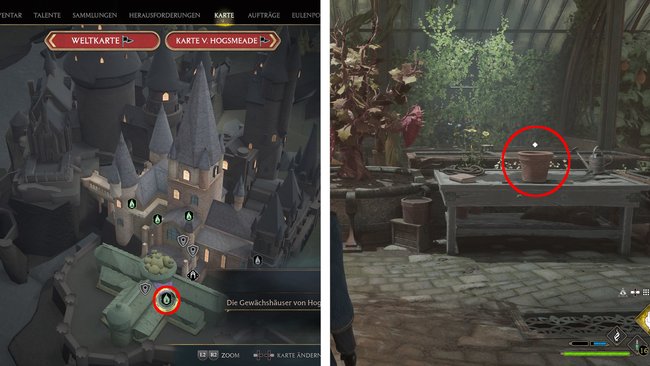 Find Venemosa Tentacula
Venemosa Tentacula is another magic plant that you can purchase from the Water Plantain and Amanita Shop. Two pieces cost you 600 gold pieces. Again, you should use the appropriate in the long run Buy Seed Packet for 1,050 gold pieces and plant them yourself.
For Venemosa Tentacula, however, you need a planting table with a large pot. You have to buy the recipe for such a planting table for 1,000 gold pieces from the Tomes and Scrolls shop at the southern entrance to Hogsmeade. Then place the Planting Table in the Room of Requirement to use it. Planting a Venemosa Tentacula takes 15 minutes.
Complete Professor Garlick's Quest 1
If you have acquired Mandrakes and Venemosa Tentacula, you simply have to use them for Professor Garlick's Task 1. You have to use the Mandrake in battle, you can use the Venemosa Tentacula anywhere. You can equip both magic plants via the tool wheel. To do this, hold down the L1/LB button and then select it with the analog stick.
Then press the L1/LB button to use the magic plant. Once you have used them, you can take part in Professor Garlick's next class. As a reward, you will learn the spell "Wingardium Leviosa".
Don't want to miss any more news about technology, games and pop culture? No current tests and guides? Then follow us
Facebook
or Twitter.