Hogwarts Legacy – How to loosen a moth to frame gameandnews
In the side mission "Like a moth to a frame" in Hogwarts Legacy you are supposed to solve a tricky painting puzzle and have to find a certain place in the Hogwarts school. If you have problems with this quest, we will help you with the solution at this point.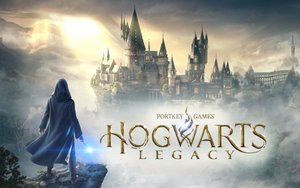 Languages:German English
Platforms:Windows PC, Xbox One, PlayStation 4, PlayStation 5, Xbox Series X
Start "Like a moth to the frame".
You can start this side quest from Lenora Everleigh in the main hall of the library annex after completing the 4th main mission and completing the Defense Against the Dark Arts class.
We also show you the starting point and walkthrough for the entire mission quickly and compactly in the following video:
Discover the secret of the painting
Lenora racks her brains over an empty frame on the wall and asks you to solve the puzzle around it. The next goal you get here now is only the instruction "Discover the Mystery of the Painting".
As with so many puzzles in the game, only a certain spell will help you here. Stand in front of the painting and use Lumos to light it up. This will cause an image showing a nearby location to appear in the empty frame. The next step is to find the location shown.
Find location on painting
You don't have to look far for the place in the painting. When you are in front of the painting, turn right and go down the stairs to the south. Immediately to your left is the statue from the painting and to your left is a moth on the wall.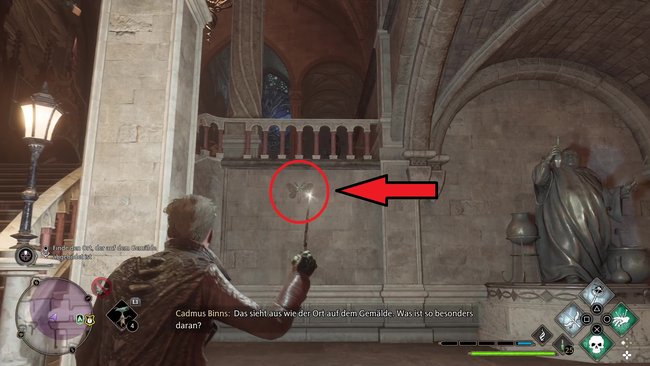 Use lumos on the moth to make it follow you and then go back to the painting. Then deactivate the spell to make her sit in the bulge. This will solve the painting puzzle and unlock a manual page for you to collect.
Finally, talk to Lenora to complete the quest. By the way, there are many more of these painting puzzles in Hogwarts Castle. Now that you know how to crack them, you can solve them and expand your collection of manual pages.
Don't want to miss any more news about technology, games and pop culture? No current tests and guides? Then follow us
Facebook
or Twitter.