LED flashlight test gameandnews
Camping, going for a walk, hunting, around the house, in the car – a good flashlight is part of the basic equipment. We tested two rechargeable LED lights with a USB connection: the inexpensive Anker Bolder LC90 and the premium model Ledlenser P7R.
Why do you still need a flashlight these days when every smartphone has a built-in light? Well, the answer is quite simple: high-performance flashlights are significantly brighter, more robust and last longer. The faint cell phone dimmer can't feel when you go for an evening walk Security offer – but a dazzlingly bright flashlight does. Long gone are the days when yellowish glowing lightbulbs and a few hours of lighting were the standard: modern flashlights rely on highly developed white ones LEDs and strong interchangeable batteriesthe per Micro USB socket get new energy. So: If you still have a flashlight from the 1990s at home, you are welcome to retire it – and replace it with one of the following models.
Anker Bolder LC90 in the test: super bright LED flashlight for little money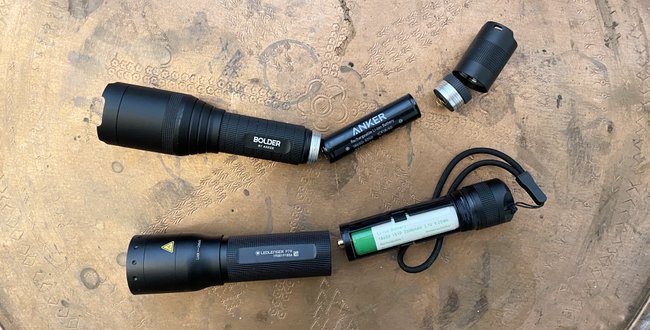 Advantages:
Attractive price
Very bright
Solidly built
Disadvantages:
Changing the light modes is annoying
Charging a bit fiddly
The Chinese manufacturer Anker not only makes power banks and chargers, but also flashlights. A popular model on Amazon is the Anker Bolder LC90 for 36.99 euros (RRP), which amazes when you look at the data sheet. The waterproof lamp (protection class IP56) is made of aluminum (length: 15.8 cm), with a corrugated surface. The battery with 3,350 mAh can be changed, the micro-USB connection for charging is hidden under the screw-off cap – charging is therefore a bit cumbersome.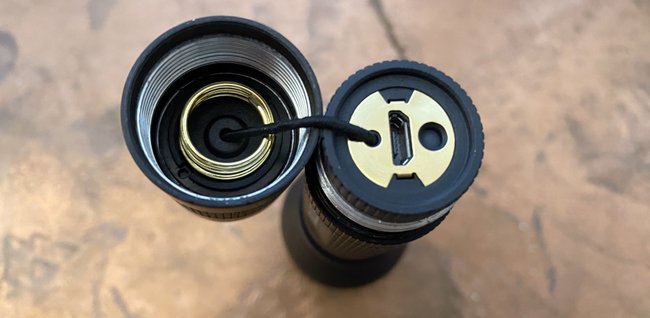 The highest light level is from the manufacturer with a luminous flux of 900 lumens specified. In my everyday experiments, it turned out that this is more than enough. This level is almost too bright, especially indoors. This is difficult to reproduce with photos: With both flashlights, we are dealing with glaringly bright, cold-white light that you should never hold in someone's face for fun. Both the anchor and the Ledlenser are technically suitable as "tactical flashlights" to blind attackers for a few seconds.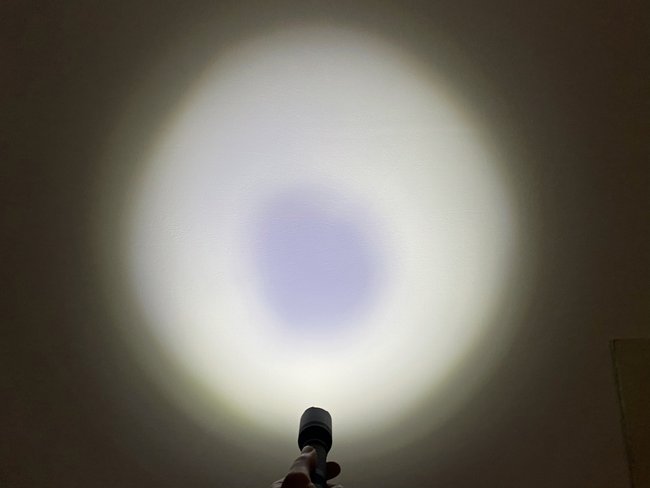 It is operated via a single on/off button on the back. With a quick press (approx. 1 second interval) you change the mode and switch the lamp on/off. You can choose between High (extremely bright), Medium (just right, up to 6 hours of light), Low (okay for small rooms), Strobe (risk of episepsy!) and SOS (well intentioned, but actually unnecessary). The Anker Bolder LC90 always starts in the last selected light mode. Overall, I find the operation acceptable, but not perfect: the first 3 modes would be enough for me. Even better would be a dedicated switch to change. So to get from medium to high again, you have to flip the switch quite a few times.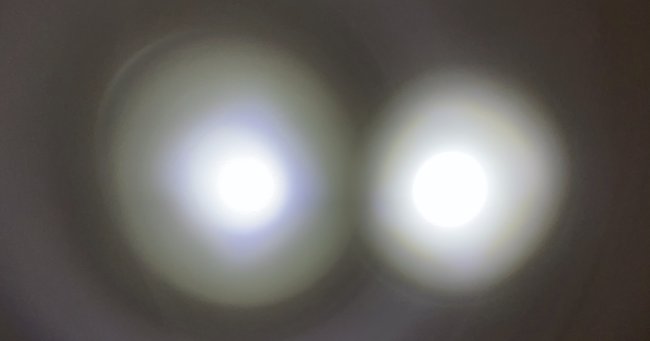 The stepless zoom with the movable lamp head is practical, but also a bit stiff. The illumination is reasonably even and only shows a few rings of light or darker areas.
Conclusion: GIGA price tip flashlight. The Anker Bolder LC90 offers excellent value for money and gets my buy recommendation as a reliable flashlight for everyday use. I already use two of them privately: One is in the basement, the other is in the glove compartment in the car.
Workmanship and design: 7/10
Performance: 9/10
Service: 7/10
Overall: 7.7/10
Ledlenser P7R in the test: Best LED flashlight in professional quality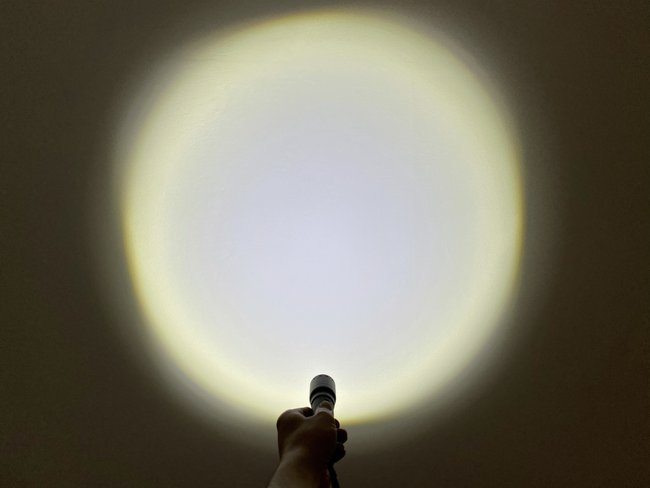 Advantages:
Very bright, excellent illumination
Simple and pleasant operation
Exemplary scope of delivery (including bag, loop, USB cable)
Disadvantages:
Charge only via proprietary cable with magnetic dock
The Ledlenser P7R is available at 99.90 euros (RRP) Significantly more expensive than many of its competitors – but it has been thought through to the end in almost every respect and trimmed for maximum performance: It is one of the best flashlights you can buy. Overall, it is more compact than the Anker Bolder LC90, but a bit brighter (according to the data sheet 1,000 lumens) and processed even better. The P7R is water and dust resistant (IP54) and shines for up to 40 hours (lowest level).
The operation is limited to three light modes (high, medium, low) as standard, here too the change is made via the on/off switch on the cap. The focus is adjusted with the easily movable lamp head. It is amazing how clean the light cone always looks: Hardly any rings or shadows, great illumination – the Ledlenser has an excellent focusing system. Older flashlights and even my halfway up-to-date Mag-Lite Mini 2AA LED almost look like lanterns from the Middle Ages.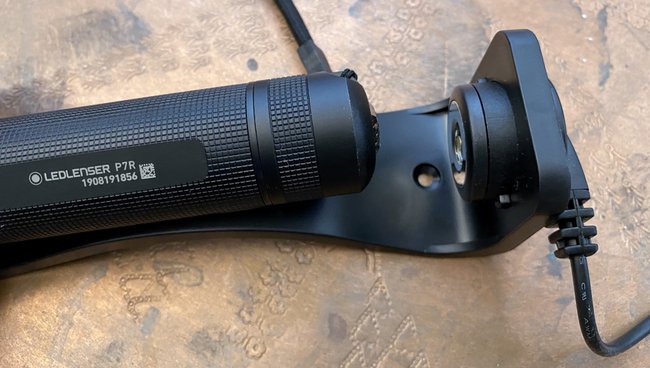 I am somewhat ambivalent about the "charging station" (Floating Charge System) to which the Ledlenser P7R is docked for charging. That's nice (no unscrewing, no fiddling with the plug) – but requires that you have the original cable with magnet connection on site. An optional USB port would be more flexible, so that you could spontaneously refuel with a standard power bank on a trip, for example, while the dock remains installed on the wall at home.
I can say two things about the high price: First, anyone who has a Ledlenser P7R and a cheap lamp from the supermarket to choose from in the household will always take the Ledlenser with them. You don't need ten pocket knives from all price ranges, just one good one. Second: I know a care facility through an acquaintance where first a night worker and then, after a while, the whole team equipped themselves with Ledlenser P7R. In day-to-day professional use, no compromises are made.
Conclusion: GIGA test winner flashlight. The Ledlenser P7R is a premium product through and through, which also meets professional demands. Anyone who has to take their dog out every day, works in security/night duty or pursues outdoor hobbies should definitely consider this useful purchase.
Workmanship and design: 10/10
Performance: 10/10
Service: 9/10
Overall: 9.7/10
Flashlights in the test: what else you need to know
Neither Anker nor Ledlenser include USB chargers in the scope of delivery for the models tested above. This is commendable from an environmental point of view and must be taken into account before purchasing. If you suffer from a "shortage of power supplies" at home, you should possibly order a charger. I charged both flashlights with an Anker PowerPort+1 18W USB charger, which worked perfectly.
Both flashlights are completely black. This looks chic and matches Batman's gear – but is a bit impractical when you first have to look for the flashlight in the dark. Some self-luminous adhesive tape can help.
You don't have to worry about the LEDs, they last up to 50,000 hours. The wearing part is the lithium-ion battery, which loses power over time and eventually gives up completely – we all know that from smartphones that hardly get through the day after a few years. Both the Anker and the Ledlenser come with a battery – it is the 18650 type, which can be bought in stores.
Don't want to miss any more news about technology, games and pop culture? No current tests and guides? Then follow us
Facebook
or Twitter.