LED spot with clamp and battery gameandnews
A portable lamp for the home: a wall light has recently become available from Ikea that can be operated with a battery and attached to many places thanks to the clamp and magnet. We have had two weeks of experience with the Tågvirke LED spot.
Recently, while visiting Ikea, I came across an interesting novelty. A matt black small lamp, with a flexible lamp head. According to the manufacturer, it is Tagvirke (look at Ikea) by a "dimmable LED spot with clamp, battery operated". The design is somewhat Ikea-typical: plain and no frills, no wild decorations, no colorful adventures. Looks inconspicuous and can be placed in many places in the apartment, preferably right next to the bed, of course.
Ikea Tagvirke is a mobile reading light and much more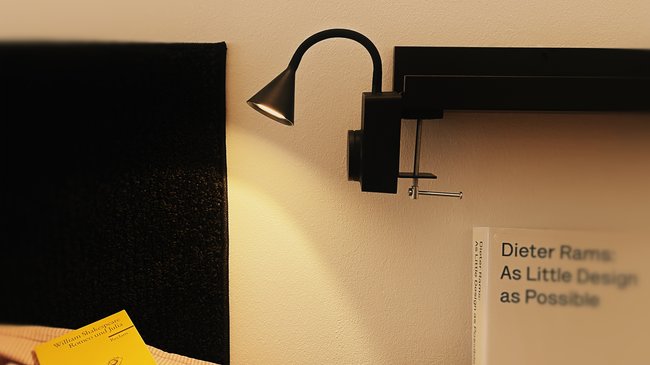 Actually, I was just looking for one "Reading light" for the wall next to my bed. The most important criterion: A clearly defined cone of light (Spot), not an all-round spotlight (as is often the case with Amazon), which diffusely illuminates the entire room. I wanted a targeted beam of light that I could align with a quick flick of the wrist. Directly on my book – or, if I use my iPad, on the side of the wall. The light from Tågvirke is warm (more yellowish than blue), which is more pleasant, especially in the evening.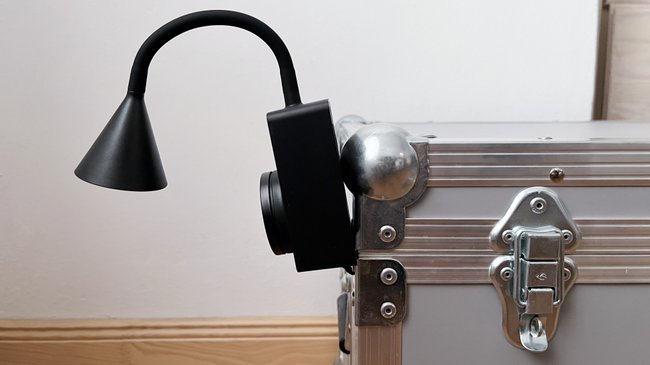 The fact that Tågvirke also allows battery operation is a nice side effect – but with a big effect. With the Ikea lamp, I always have a "flashlight" at hand, for example when I have to go into our poorly lit basement. It's just handy, the lighting place anywhere to be able to Chilling out in the kitchen with music in the evening without immediately switching on the "festival lights"? No problem! The same applies, of course, to scenarios such as garden, balcony, terrace … little Tågvirke just comes along. There is no need to think about sockets and wiring.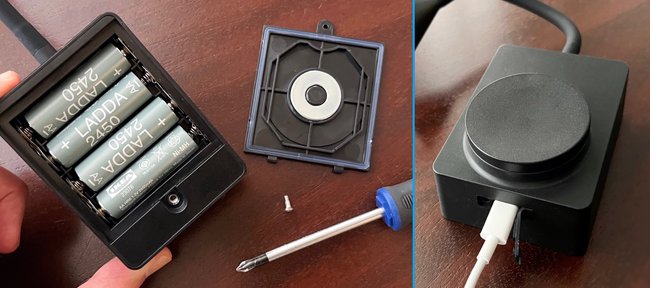 Conventional ones are used for mobile power supply 4 AA batteries (e.g. from Varta at Amazon) in question. But where I was already there, I took a 4-pack LADDA from Ikea with me, each with 2,450 mAh. With that I got one at the brightest level of Tågvirke Battery life of around 9.5 hours. Some time before that, the small status LED on the lamp starts flashing red, then you know. Overall, not amazing endurance, but still sufficient for most everyday situations. The inserted batteries are recharged via USB-C – so Tågvirke is also a charger.
Good to know: The lamp can be connected to a standard mobile phone power supply unit even without batteries inserted operate.
Advantages:
either battery operation or wired (USB-C)
mobile: screw terminal + integrated magnet
flexible: pivoting lamp head, stepless dimmer switch
Disadvantages:
quite expensive at 17.99 euros
no power adapter and USB-C cable included
Battery life could be even better
Ikea design but no Ikea price
The operation of the large button (press for on/off, turn for brightness) is simple and good. The design, as always, is a matter of taste – at least I like it much better than the typical "battery clamp light" with high-gloss plastic from the discounter. Tågvirke looks much more valuable in comparison.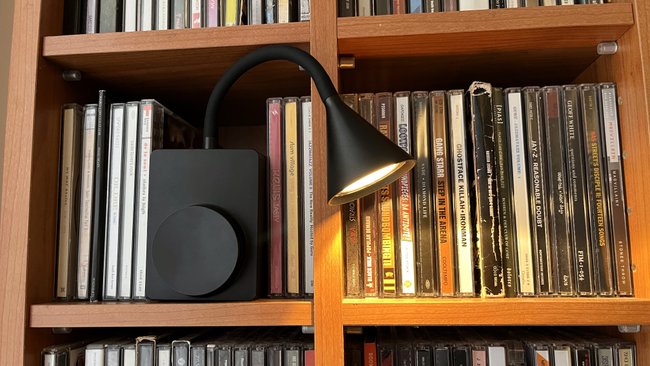 The biggest drawback is the high price: The lamp costs handsomely at Ikea Germany 17.99 euros (only 14.99 euros in Austria, by the way). There are no batteries included (7.99 euros at Ikea) and ideally you should also have a power supply unit with a USB-C cable. Nevertheless, I think that Tågvirke has earned its permanent place in our household after around 2 weeks of use and therefore gets my purchase recommendation.
Don't want to miss any more news about technology, games and pop culture? No current tests and guides? Then follow us
Facebook
or Twitter.