Lidl sells perfect lawnmowers for small gardens gameandnews
Robotic lawnmowers are all the rage. I too actually wanted to treat myself to one of the automatic lawn mowers after remodeling my garden so that the lawn is mowed regularly and I have less work to do with it. But now I've stumbled upon a cheap alternative that I would call a "human-powered robotic lawnmower". I bought it and so far I'm very pleased with this lawn mower.

Lidl sells mini lawn mowers for 75 euros
Update from March 19, 2023: From March 20th, the lawn mower will be available again at Lidl. The price is now 75 euros (look at Lidl).
Original article:
I was actually determined to buy a robotic lawnmower. The prices of over 500 euros have put me off so far and the conversion of my garden was not yet complete at that time anyway. Now I'm done and could theoretically strike. But the way I designed my garden it would be very cumbersome to lay the cable, to which the robotic lawnmower orients itself. Especially with small lawns like mine, which measures about 80 square meters and contains a few tripping hazards, the expense was too expensive for me.
Then I came across the cordless lawn mower "Handy Mower" from Parkside at Lidl (see Lidl). Basically looks like a robotic lawnmower, only with a pole on it and without the automatic mowing. But the principle is the same. The cut grass is not collected, but remains as fertilizer. With the small cordless lawnmower, you simply drive your lanes like you would with a normal lawnmower, ensuring strong growth and a beautiful lawn at regular intervals.
I've had the small cordless lawnmower for a while now and I love it. Man basically drives it over the lawn like a vacuum cleaner. The level 1 height is perfect and the lawn looks great. Otherwise I never really felt like getting out the big lawnmower, cleaning it again afterwards, disposing of the cut grass and so on. I pull out the "Handy Mower", plug in the battery and just drive off. It can even be done with one hand and my lawn looks nice and clean.
What you should know about Lidl:
What do you have to consider with the small "Handy Mower"?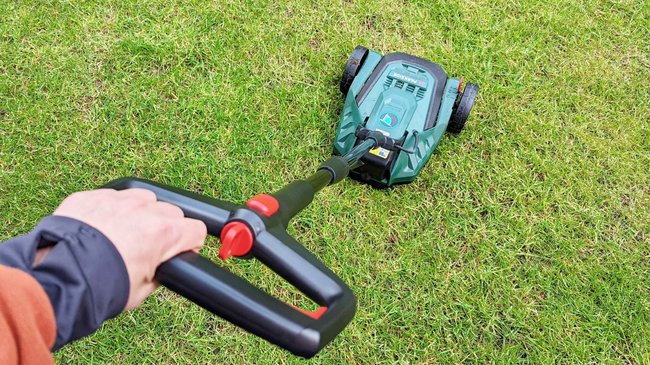 You get that "Handy Mower" from Parkside at Lidl currently for 75 euros (look at Lidl). But there is no battery or charger included. You have to buy them separately, so that you end up with a little over 120 euros (look at Lidl). I already had the batteries because I use several Parkside devices that use the same battery. That's why the only thing left was to buy the lawnmower. A comparable model from Gardena costs 140 euros without a battery and charger (take a look at Obi) and is extremely popular.
Furthermore, even with the small cordless lawn mower, you will not be able to avoid that you have to be active yourself. The lawn doesn't mow itself with it. In my opinion, however, it works so easily that I don't currently see mowing the lawn as a burden, but as a meaningful task so that the lawn looks better. For me, the purchase was worth it and the robotic lawnmower is initially written off. But I haven't completely abandoned the idea. Perhaps there will soon be a model without a perimeter wire that is affordable.