New balcony power plant with battery storage is here: That's how much it costs gameandnews
Balcony power plants are currently in high demand and are often installed to reduce their own energy costs. However, a lot of electricity is wasted that is not directly consumed. Some manufacturers are working on solutions and battery storage for mini solar systems. Greenakku presented two models.
Balcony power station with battery storage from Greenakku
Something is happening in the area of ​​balcony power plants. Not only are prices falling significantly, but manufacturers are also developing storage solutions so that they don't have to give away the excess electricity. With SolarFlow, Zendure has presented a very elegant solution that will soon be on the market. The solar professionals from Greenakku are now presenting. You bid one Balcony power plants with battery storage.
Overall, Greenakku offers two models with one or two solar cells. There are the large 2.56kWh lithium battery, the module inverter, solar controller, a WiFi socket and all the necessary cables for the connection. A circuit diagram shows how you have to wire the whole system, because it is more of a DYI solution. You must therefore have a dry shelter for the battery and the solar controller.
Much more interesting is what such a complete set costs. Green Akku offers two packages:
That's a lot of money for a balcony power station, but you also get a fairly large battery that can store a lot of energy. The battery alone retails for over 1,600 euros. Amazon even asks for 1,900 euros (look at Amazon). It has its own Bluetooth module and can be read out in this way.
This is how you save money with a balcony power plant:
Pretty smart solution from Greenakku
Greenakku's solution is pretty clever and in my opinion also legal to operate in Germany. The solar cells are connected in series and connected directly to the solar controller, which in turn is connected to the battery. The self-generated electricity flows directly in here and is only released when the inverter really needs energy. You can control this yourself via a WiFi socket. The circuit then looks like this: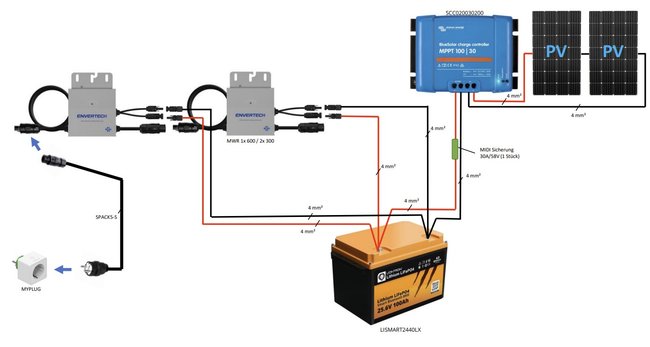 You can also buy a retrofit kit and use it with your existing balcony power plant. A system with two solar cells costs 1,871.43 euros (look at Greenakku).
The main drawback: It is a purely manual solution. You always have to decide whether you want to store or use the electricity from the balcony power plant. A solution with a receiver from the electricity meter does not yet exist. But it can still come if the development progresses so quickly.
Don't want to miss any more news about technology, games and pop culture? No current tests and guides? Then follow us
Facebook
or Twitter.