New robotic shark eats our trash gameandnews
Our waste often ends up in the sea directly or via detours. The robot "Wasteshark" – a garbage shark – should free us from garbage in the future by simply eating it up.
Wasteshark: 500 kilograms of garbage end up in his stomach
We've all probably seen the horror images of sea creatures getting tangled up and/or dying in our trash. The Garbage in the world's waters takes over: In 2021, over 32,000 waste items were found on German coastsinvolving the UK over 130,000 (source: Statista/Ocean Conservancy). If we want to do something for our future, we must, among other things, also free the waters of the world from garbage.
The Dutch robotics company Ran Marine Technology offers a solution: This is how the floating drone called "Wasteshark" (in English: garbage shark) "eat up" our waste. The robot was recently tested in London's Canary Wharf: The Wasteshark is battery-operated, and it can (autonomously or remotely) cover a distance of 5 kilometers in the water. In addition, the manufacturer states that the drone up to 500 kilograms of plastic and pollutants can record (source: Ran Marine).
The practical thing: while cleaning up, the robotic shark naturally swallows some water. He uses this to analyze the water quality. After the work is done, Wasteshark delivers its loot to enable proper disposal or recycling.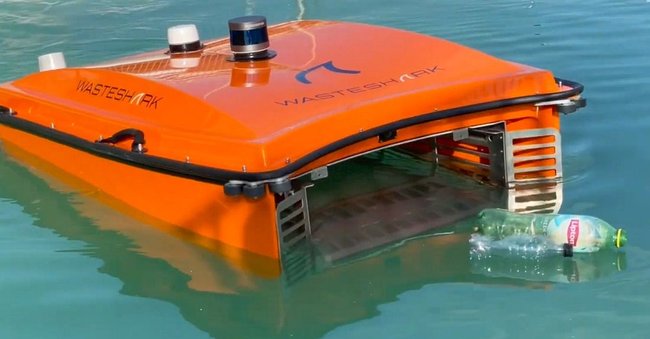 So far only one Garbage Shark in action
Of course, the numbers sound fantastic: 500 kilograms less waste – every day. However, this figure is idealistic. Like the news portal "The standard" writes, that's the Total of around 22,700 empty PET bottles meant. However, since these are often filled with air or water, they take up more space in the robot. Nevertheless, the fact that the robot can collect plus/minus 500 kilograms of rubbish is good for our world.
These positive numbers are primarily a way to win more sponsors for the Wasteshark. So far coming a robotic shark in London with one sponsor being the beverage company Britvic.
You can find out more about sustainability in other articles:
Don't want to miss any more news about technology, games and pop culture? No current tests and guides? Then follow us
Facebook
or Twitter.