Otto sells a balcony power station in black with a WLAN function at a bargain price gameandnews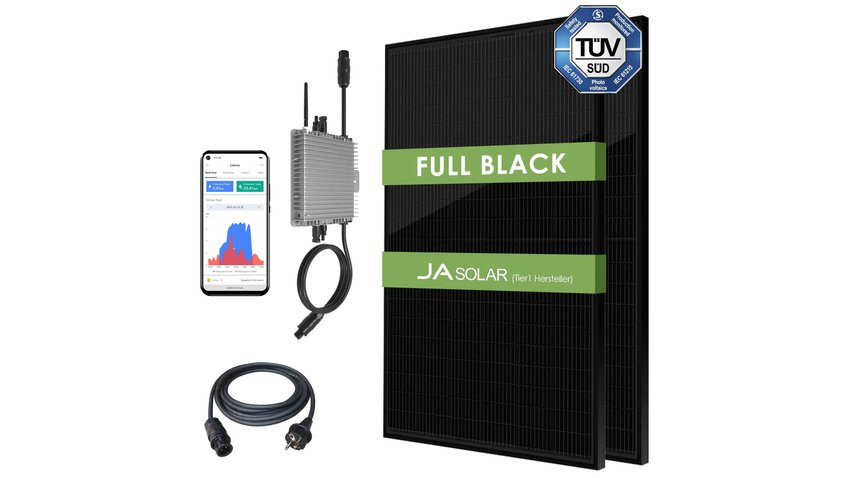 ---
If you want to reduce your electricity costs, then a balcony power plant is a good option. Recently, the prices for mini solar systems have fallen significantly. Now you can get a complete set from Otto in a chic "Full Black" design at an attractive price. But there is also a cheaper way.
Balcony power plant cheap to have at Otto
The prices for balcony power plants are becoming more and more attractive. You can currently get a VALE set from Otto for only 649.99 euros (see Otto). In addition, there are 34.90 euros shipping costs by forwarding agency, so that you ends up at 684.89 euros. Anything under 700 euros is currently a good price. But there are only a few available. Alternatively, you can find a set on eBay for less than 580 euros (check out eBay).
The special thing about Otto's offer is that you get completely black solar cells with an output of 395 watts each. The inverter also has a WLAN interface and you can use the data of the Read out the mini solar system directly via an app. Often you also need a WLAN socket to receive the data. Everything is already integrated here and much simpler. Otherwise there is still the connection cable, so that you can simply connect the balcony power plant to the socket.
This is what you need to know about balcony power plants:
Mini solar systems are currently very popular
More and more people want to get a mini solar system because it is much easier to install and register compared to a large system. I myself have been using a balcony power plant for almost two years and save around 100 to 150 euros in electricity costs per year. The higher the energy price rises, the more worthwhile the system is.
There are now also many subsidies for mini solar systems, so that the purchase is definitely worthwhile if you have space for it.
Don't want to miss any more news about technology, games and pop culture? No current tests and guides? Then follow us
Facebook
or Twitter.