Discord support, VRR support for 1440p monitors and over-the-air updates for the DualSense controller – these were the highlights of the last major PS5 update. But deep down in the changelogs, attentive fans have found another special feature that the Xbox has been offering for quite some time.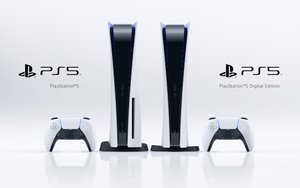 New feature for the PS5 can save you big downloads
With update 7.0.0 for the PS5, Sony has given its current console a few practical new functions. PS5 players can finally use Discord via the console, albeit indirectly. On the Xbox, however, the function has been available for some time.
It's so easy to link your PSN and Discord account to use voice chat on PS5:
But that's not the only feature Sony has copied from the Xbox. Because if you read the complete changelog of the update carefully, you will also find the following passage there:
"If your PS5 has the download version of a game that you did not purchase (for example, a game that another player purchased on your PS5), but you have the disc version of that game, you can use the installed one Play the download version now if you insert the disc first (without having to install the disc version).

Similarly, if you installed a game using the accompanying disc and later purchased the download version of the game: If so, you can now play the installed disc version of the game without inserting the disc.(Source: PlayStation Blog)
This can also be interesting for PS5 players who live in regions where there is no fast internet connection. For example, if your buddy has a game that you bought digitally on disc, he can bring the game to you and you install it from the disc and then only have to pull the updates over the Internetbefore you can start playing without a disc.
Sony has already released another update
Shortly after rolling out firmware 7.0.0, Sony released another update for the PS5. However, the new firmware with the version number 7.01.0 does not bring any major innovations. According to the description on the official website, the small patch only fixes a problem that caused the connection to Discord voice chat to be interrupted.
By the way: You can now order the PS5 directly from Amazon without any problems:
Don't want to miss any more news about technology, games and pop culture? No current tests and guides? Then follow us
Facebook
or Twitter.