An eight-year-old RPG is currently causing a sensation in the PlayStation charts. Fallout 4 is already available in the Game-of-the-Year-Edition for 10 euros and is thus back on the bestseller list.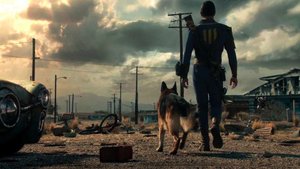 When Fallout 4 released in 2015, Bethesda's RPG took the community by storm and raked in a ton of awards. The game is 8 years after the release still hugely popular on the PS4 and PS5 and can even re-establish itself in the PlayStation charts thanks to a discount of 75 percent.
Fallout 4 now heavily discounted on PlayStation Store
In Fallout 4, Bethesda lets you explore the post-apocalypse again – you can create your own character, out of the nuclear bunker into the contaminated world and go there in search of your missing son Shaun. For the first time in the Fallout series, you can build and expand your own settlement while also fighting off various mutants and factions in the ruins of Boston.
Check out the Fallout 4 launch trailer here:
Fallout 4 Game of the Year Edition includes in addition to the base game, all six available DLCs. The RPG is currently reduced by 75 percent in the PlayStation Store. You can now get the PS4 hit for EUR 9.99 instead of EUR 39.99 – the offer is valid until March 30, 2023.
PlayStation charts: PS4 and PS5 hits at massive discounts
With its discount, Fallout 4 currently ranks 11th in the PlayStation charts. While this is a more than respectable ranking for the 8-year-old RPG, the top 10 also includes other heavily discounted games. For example, this is how it snaps Sci-Fi game No Man's Sky 9th placewhile Shadow of the Tomb Raider, Crash Team Racing Nitro-Fueled, and Marvel's Spider-Man make the top five games.
The PS5 community can not only look forward to discounts – a racing hit is now causing enthusiasm with a graphic update:
Don't want to miss any more news about technology, games and pop culture? No current tests and guides? Then follow us
Facebook
or Twitter.