RTL+ on TV: Smart TVs & streaming devices gameandnews
With the "RTL+" Premium offer, you can watch the channels of the RTL Group online and also access a lot of exclusive content. The programs can not only be switched on on a mobile device or on a PC, but "RTL +" (formerly TVNOW) can also be received on the television via Smart TV app or streaming device – you can find out the details here.
Version:Web
Languages:German
release:03/01/2016
Since no standard has yet been established for Smart TVs, app developers always face a certain problem when it comes to supporting the "smart TV". The browsers of the smart TVs also often have to struggle with compatibility problems and cannot be used for many streaming services. "RTL +" already offers an app for some Smart TVs, owners of an incompatible TV have to resort to alternatives.
A notice: A premium membership is mandatory to use the "RTL+" app on the television.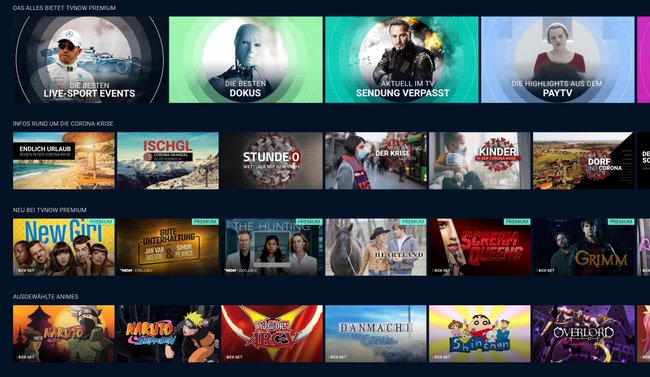 The compatible smart TVs
The "RTL+ Premium" app is now available on various smart TV operating systems. You should be able to find them on the following TVs in their respective app stores:
Android TV devices from all manufacturers (from version 5.1)
Blaupunkt (Android TV)
Hisense (HbbTV from 2018)
LG (HbbTV from 2016, WebOS 5/6 from 2020)
Panasonic (HbbTV from 2018, Android TV)
Philips (HbbTV from 2019, Android TV)
Samsung (HbbTV from 2016, Tizen from 2017)
Sharp (Android TV)

Sony (HbbTV from 2016, Android TV)
Vestel (CTV OS)
Unfortunately, smart TVs with HbbTV and CTV OS currently have no way of accessing the broadcasters' live streams. If you can't find the app in your smart TV's app store at all, you'll have to use one of the alternatives below.
You can find an overview of the various TV streaming offers in Germany in the following video:
"RTL+" on every television
If your smart TV isn't compatible with the "RTL+ Premium" app, that doesn't mean you can't use the streaming service on the TV at all. With a supported streaming device, you can also watch the content of "RTL+" on an ordinary television. Here we have summarized the current options for how you can see "RTL+" on your big screen:
streaming devices
The Amazon Fire TV Stick is probably the most common and one of the most affordable ways to add a few extra tricks to your TV. But the other streaming sticks and set-top boxes also support RTL+:
Fire TV Stick, Box & Cube
Apple TV (from the 4th generation)
Magenta TV stick
Roku Streambar, Streaming Stick & Express HD/4K
Comcast XiOne
smart receiver
For the current receivers from sky, telecom, unitymedia or Vodafone There is also the "RTL+" app – but these do not offer direct access to the broadcasters' live streams in the app. The following devices are supported:
Sky Q Receiver
Telekom Magenta TV Box & Receiver (201, 401 & 601 Sat)
Unitymedia HD Receiver or Horizon HD Receiver/Recorder
Vodafone GigaTV box and (U)HD receiver

A1 set top box
Transfer with mobile phone
If you have an iPhone or iPad, you can transfer the content of "RTL+" to older Apple devices via AirPlay and bring it to the TV. But you can also use an Android device and Google's Chromecast to "beam" the video content from your smartphone to the TV.
Laptop/PC
If you have a living room PC or simply connect your laptop to the television with an HDMI cable, you can also use RTL+ on Windows and macOS via the following browsers:
Microsoft Edge (from version 102)
Mozilla Firefox (from version 101)
Google Chrome (from version 102)
Opera (from version 87)
Safari (from version 13)
Don't want to miss any more news about technology, games and pop culture? No current tests and guides? Then follow us
Facebook
or Twitter.