Special mini solar systems with holder and app presented gameandnews
Balcony power plants are currently very trendy. More and more people want to buy such a mini solar system, but often fail because of the oversized offer and the problems with secure attachment. This is exactly where Anker can score. With the two Solix balcony power plants, you get a complete set with a variable mount and connection to your mobile phone via an app.
Anker brings two balcony power plants to Germany
Anker now not only offers solar generators, but is now also entering the market with balcony power plants. With the Solix series, the company is now offering two of its own solutions that differ greatly from those offered by other retailers. Anker has put together two complete sets that not only consist of two powerful solar cells, an inverter with WiFi and app connection, and cables, but also directly developed the right bracket for it, which is very variable. You can attach the balcony power plant to the railing of your balcony, as you can see in the picture above, place it in the garden or on a flat roof. The angle of the alignment can be adjusted individually.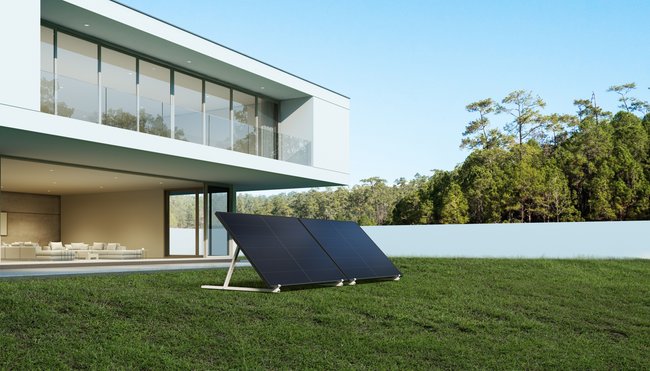 There are two different versions:
Standard comes with two 415 watt solar panels in the classic silver stripe design.
Premium comes with two 440 watt monocrystalline solar panels, which extract a little more energy in the shade.
Building the set is child's play. All plugs are designed in such a way that they cannot be plugged together incorrectly. The Connection to the house network is via the normal socket. The 600-watt inverter is connected to the Internet via WiFi and you can read out all the data directly using the Anker app. It couldn't be easier, because everything is perfectly coordinated. As usual, there are long guarantees on solar cells (12 years) and inverters (10 years).
This is what you need to know about balcony power plants:
Anchor balcony power plants: Prices are relatively high
For this simplicity and certainty that you really get everything including the holder, you also have to pay a little more. For the balcony power plant Anker Solix Standard are including shipping by forwarding to the curb 1,299 euros due (look at anchor). For the balcony power plant Anker Solix Premium including delivery to the front door 1,799 euros due (look at anchor). The first 1,000 pre-orders of the premium version will also receive the Anker 633 PowerBank and the 737 GaNPrime charger.
The prices for balcony power station sets with similar properties are currently around 700 euros without brackets. With such a variable bracket, you add another 200 to 300 euros. But then you don't have everything from a single source. Such a solar system is worthwhile over its lifetime anyway. If you can still get a grant, you'll save even more money. I save around 140 euros a year in electricity costs.