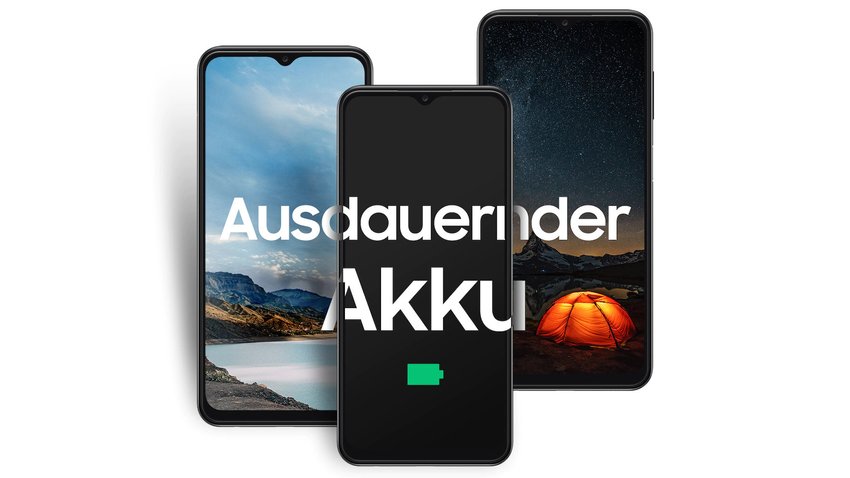 ---
If you are currently looking for a good and cheap smartphone, then you can soon strike at Aldi. The Galaxy A13 5G will go on sale in both local markets and online starting tomorrow. This time you even get the future-proof version.
Aldi sells Samsung Galaxy A13 with 5G for 179 euros
In the past, Aldi has often sold the normal Galaxy A13 with a 4G modem for little money. But the discounter also moves with the times and offers from March 30, 2023, the Galaxy A13 5G for only 179 euros. The offer will be available on site in the Aldi Nord and Süd stores on that day and will also be sold at Aldi Talk. So everyone who wants a cheap Samsung cell phone can strike. The SIM card with a credit of 10 euros is included.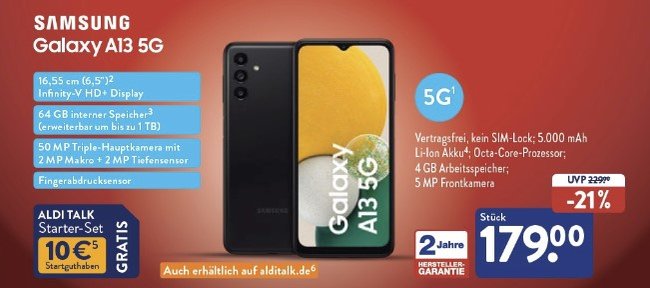 The Samsung Galaxy A13 5G comes with solid equipment. You get a large 6.5-inch display with HD+ resolution, octa-core processor accompanied by 4GB of RAM and 64GB of internal storage. You can expand the latter by up to 1 TB and insert two SIM cards so that you can be reached via dual SIM. This smartphone even has more a 3.5 mm jack connectionso you can connect classic headphones.
The highlight of the Samsung Galaxy A13 5G should be the large 5,000 mAh battery be, which should ensure a very long runtime in combination with the built-in hardware. There is also a 50 MP main camera. A 5 MP camera is installed on the front. Samsung even thought of the fingerprint sensor.
If you are going to buy a Samsung phone, you need to know these tips:
Who should buy the Samsung Galaxy A13 5G?
Basically, the purchase of the Samsung Galaxy A13 5G is worthwhile for anyone who wants a relatively cheap and good Android smartphone with a long service life, which is future-proof thanks to 5G. With it you can do everything that can be done with a cheap smartphone for the next few years without hesitation. Just don't expect too much in terms of performance and camera. If you want more, you should rather go for a Galaxy A53 (look at Amazon).