Steam survival hit finally lands on the Microsoft console gameandnews
Valheim really took off in early 2021 and was able to captivate millions of players on Steam within a very short time. Previously the Viking adventure was only available on PC, now Valheim is also available for Xbox. Only PlayStation fans continue to get nothing.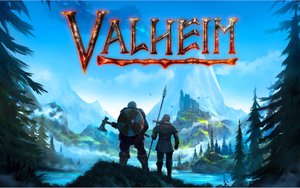 Version:Early access
Languages:German English
release:02/02/2021
Platforms:Windows PC
updated: Xbox players had to wait for more than two years – now the time has finally come. Valheim is now also playable on Xbox Series S, Series X and Xbox One. Game Pass subscribers can even play the survival hit for free, all other Xbox players can purchase Valheim for 19.99 euros in the Microsoft Store.
Original article:
Valheim is coming to Xbox – coming to Game Pass
Almost half a million players romped around on the servers in Valheim's heyday in spring 2022. In the meantime, the great rush to the Viking survival game has passed, but it is far from being forgotten. Even today, tens of thousands of players are still playing in the game world of the Iron Gate AB studio (source: steamcharts) – and that number is likely to increase dramatically in the spring of 2023.
Because as part of the Xbox Games Showcase Extended, Microsoft announced that Valheim would end up in the PC Games Pass in autumn 2022 and will also be part of the Xbox Game Pass in spring 2023. However, a PlayStation version is not planned. Microsoft leaves open whether the game only runs natively on the Xbox Series consoles and Xbox One players can only play via streaming. Officially, there is only talk of that the game ends up on the Xbox.
With a bit of luck, both console generations will really be able to enjoy playing Valheim directly – especially since the former Steam bestseller doesn't exactly set new standards in terms of technology. That should also pack Microsoft's last-gen console in 720p at 30fps.
If you want to get started in Valheim as smoothly as possible, the best thing to do is watch our 5 tips in video form:
Valheim gets crossplay support
What should also please the players: Microsoft has already confirmed that Valheim will support crossplay between PC and console. Whether the PC version was purchased from the Microsoft Store or via Steam should also have no effect on compatibility. A great service from the developers.