Nintendo has really kept Zelda fans waiting a long time. There have already been two trailers for Tears of the Kingdom, but still no gameplay. It's finally here and we know how Link's abilities have evolved since Breath of the Wild.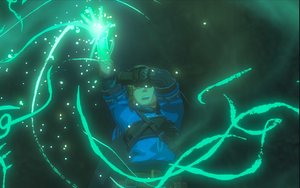 Languages:German English
Platforms:Nintendo switch
Zelda: Tears of the Kingdom is finished – and this is how it plays
The Legend of Zelda: Tears of the Kingdom is expected to be released on May 12, 2023. Zelda boss Eiji Aonuma is now sitting in front of his switch and personally introduces the successor to Breath of the Wild in a 10-minute gameplay video. Right at the beginning there is hopeful news: Tears of the Kingdom development is complete. Hopefully we will be spared another postponement.
Visually, nothing has changed compared to Breath of the Wild. Links arsenal but shows clear differences. That starts with the new ability "time reversal", which Link uses to re-air a stone that has fallen from the sky. This is how the hero gets to the new sky islands.
The Synthesis Ability but then shows why Tears of the Kingdom deserves to be a standalone game. Any objects can be put together with it. A stick and a stone make a club, an arrow and a monster eye make a homing arrow, a mushroom on the shield creates a cloud of smoke when hit.
Check out the full Zelda: Tears of the Kingdom gameplay video here:
New Zelda abilities promise endless possibilities
The synthesis system promises a whole new level of sandbox gameplay that was so well received in Breath of the Wild. That also shows the ability "Ultra Hand". An upgraded version of the Magnet Module, it can be used to lift objects and also link them together. For example, the vehicles that could be seen in previous trailers are nothing more than components glued together with "Ultra-Hand".
Finally, he takes care of that "ceiling jump" for less hassle when climbing. In the video, Link uses it in a cave and quickly stands on the mountain above by sliding through the ceiling.
The gameplay of The Legend of Zelda: Tears of the Kingdom promises countless possible combinations. However, there are still things that are missing opportunities to use them. The video shows a new opponent, but that's about it. There is also no trace of the shrines from Breath of the Wild. Also apparently completely gone is the Sheikah Stone and with it Link's old abilities from Breath of the Wild. We'll probably have to wait until May 12 for explanations here.