Telegram: Activate and set energy-saving mode gameandnews
If you use Telegram frequently, you will eventually find that it affects the battery performance quite a bit. Animations, automatically starting GIFs and videos drain the battery. If you have problems with this, you can activate the energy saving mode and also specify when it should start.
Version:9.4.9
Languages:German
Platforms:Android
Phones with strong batteries hardly have a problem with Telegram, but if you use the app on an older phone, you will certainly be happy to be able to extend the runtime with Telegram's energy-saving mode. We will explain how you can activate it and make individual settings.
Have you ever streamed live on Telegram? Here's how it works:
Activate energy saving mode in Telegram
Telegram's energy saving mode is easy to activate. It has a few automatic "save levels" based on your current battery level, disabling power-hungry features when the need arises.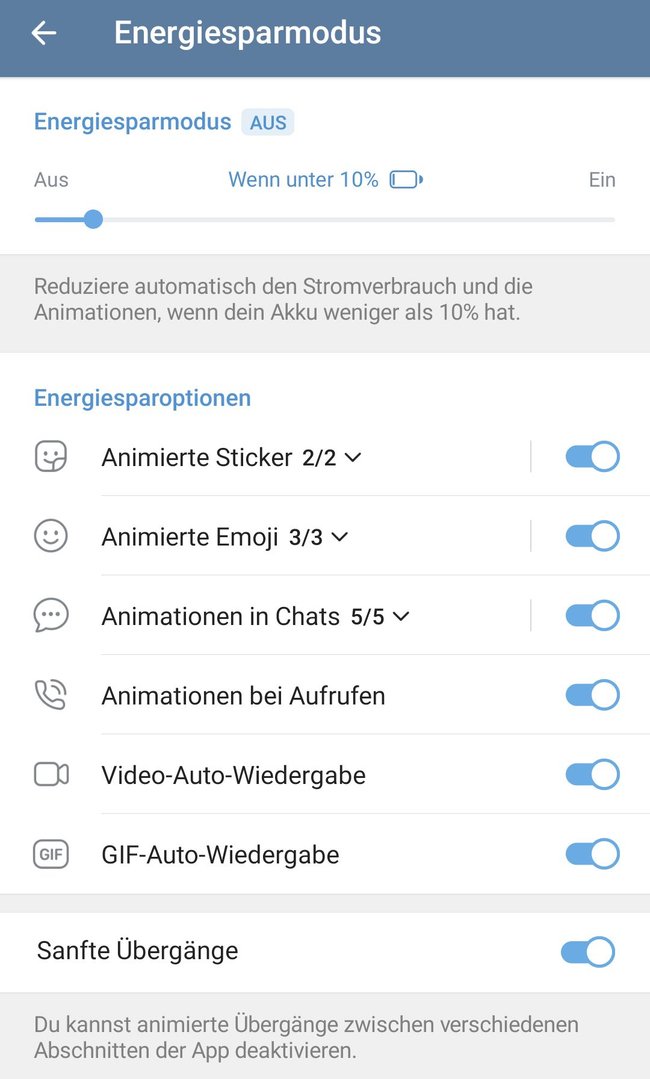 This is how you activate the Telegram power saving mode:
Start Telegram on your phone.
Open the menu and tap on "Settings".
Scroll down a little and tap on "Energy saving mode".
In the next window you will see a setting with a "slider" at the top, which is set to "10%".
Move this slider to set the battery level at which power saving mode should be activated.
If you push it all the way to the right, to "100%", it becomes active immediately and is always switched on.
Individual power saving settings on Telegram
Until you enable power saving mode at your current battery level, you won't see any changes to the switches below. They are all set to "blue" and this means that all listed functions are executed. Stickers are animated, videos and GIFS play automatically.
This means that in Telegram you can individually set the battery level at which certain functions are switched off.
If you want, for example, that stickers and emojis should no longer be automatically animated when the battery capacity is 50 percent, proceed as follows:
Starts Telegram and opens the settings for energy saving mode.
Move the slider to "50%".
Now toggle the switch on "Animated Stickers and Animated Emoji" so that it turns gray.
This setting takes effect immediately, and as soon as your phone's battery level drops to 50 percent, these animations will be disabled. This saves electricity and ensures that you can use Telegram for longer.
You can also use the function to permanently disable animations or self-starting videos regardless of the battery level. Simply slide the slider to "100%" and then set which animations should always be switched off.
If you then get a video sent to you in the future, you have to tap it to play it.
Don't want to miss any more news about technology, games and pop culture? No current tests and guides? Then follow us
Facebook
or Twitter.