The golf class is on the retreat gameandnews
Anyone who hasn't bought one themselves will see them more and more often, at least on the street: the SUV trend when buying a car is unbroken. The sometimes huge battleships are now also giving way to the previously most popular cars of German drivers.
More and more SUVs: Golf class is becoming rare on Germany's roads
With the streets full of large SUVs and crossovers, there will eventually be less space – but not only in this respect the cars are increasingly displacing the Germans' favorite car: the compact car. A look at the numbers shows that it's not called for nothing Golf class is no longer so popular the same as it was a few years ago: the Federal Motor Transport Authority (KBA) recorded over 800,000 new registrations in 2016 2022 only 422,000 new vehicles in Germany (source: T-Online).
Models such as the VW Golf, but also the Audi A3, Ford Focus or Opel Astra have shaped the image on the roads in this country, if not decisively, then significantly. The example of December 2022 makes it clear how big the gap to the larger models is: the KBA counts 47,799 newly registered compact cars for the last month of last year. Both SUVs came with 106,902 units, more than twice as many new to the streets. In the inventory, the difference is not so noticeable: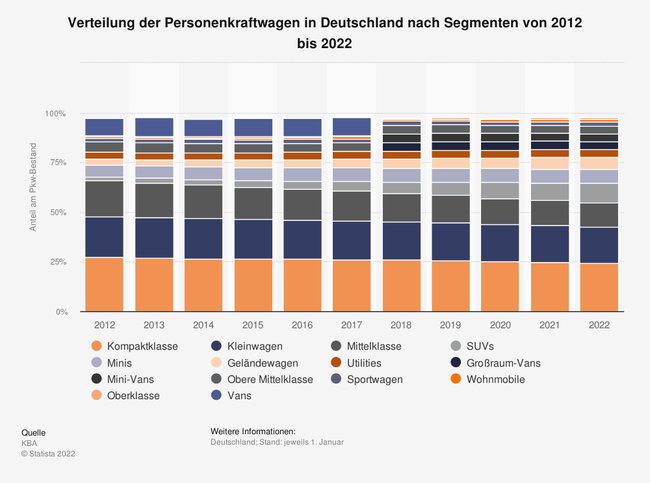 2022 belonged 24.2 percent of cars in Germany belong to the Golf class, which is still the largest segment. However, the proportion of compact cars in the total stock is falling, while it is clearly growing fastest among SUVs. In 2022, sports vehicles already accounted for 9.9 percent of the stock.
It is not surprising that the development is so clear: Manufacturers have been favoring larger models with higher profits per vehicle sold, and not just since the corona pandemic. This trend can also be seen in new electric cars: The ID row from VW, for example, consists of one only compact car, the ID.3, and three significantly larger models, the crossover SUVs ID.4 and ID.5 as well as the ID. buzz Next up will be the ID.7, the most expensive e-car from Wolfsburg to date.
No competition in terms of price, but the e-cars from China have other qualities:
Buying a car: Manufacturers are asking customers to pay more and more
According to the trend, however, not only new SUVs are being released, but also fewer and fewer compact cars are being offered. Ford discontinues Focus and Fiesta, Audi will no longer miss a new edition of the A3. The Golf will continue to exist, but as an electric car. These are not good prospects for price-conscious customers.
Don't want to miss any more news about technology, games and pop culture? No current tests and guides? Then follow us
Facebook
or Twitter.