More and more people are dealing with the topic of balcony power plants and not only want to save energy costs, but also do something for the environment. EET is a German company that has been offering a particularly elegant solution with storage for years.
EET SolMate: balcony power station with battery storage
While some manufacturers of balcony power plants are only now coming up with the idea of ​​equipping the mini solar systems with a battery so that they don't have to give away the excess energy, the EET team came up with the idea back in 2017. Since 2018 there is SolMate actually a complete solution of solar cells for various purposes and the memory.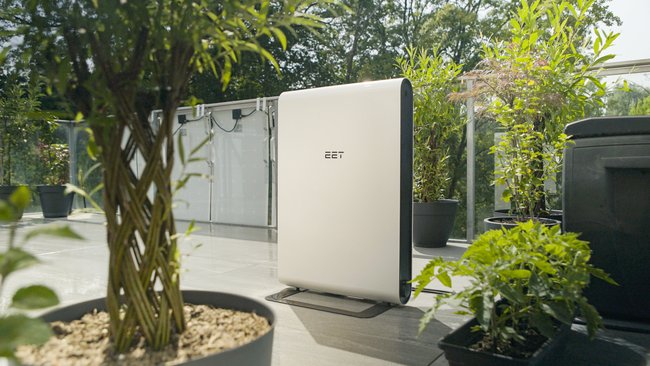 In contrast to the solutions from Greenakku or from Zendure, you don't have so much cable clutter and many individual parts here, just a chic white box where the 1.44kWh LFP battery and inverter are installed. You can connect two to four solar panels with 370 Wp and in addition to the 600 watt output in mains operation too use an island modewhich makes you really independent of the power grid, should a blackout occur.
But such an elegant solution also has its price. The solar cells start at just over 400 euros. The Battery costs from 2,199 euros (look at EET). However, the price does not seem to deter interested parties, because the battery storage in particular is currently sold out and you can only pre-order for the fourth quarter of 2023. The interest in this solution with battery and island function is therefore absolutely given. Everything can be read and controlled via an app.
There are various installation options for the EET balcony power plant:
Is all this legal to operate in Germany?
As far as I understand it, yes, because a maximum of 600 watts is output and you will receive a declaration of conformity that is VDE-compliant, so that nothing stands in the way of registering with the network operator. In any case, it is another option that you can use to save energy and not give it away.
Don't want to miss any more news about technology, games and pop culture? No current tests and guides? Then follow us
Facebook
or Twitter.