What is it and what are the benefits? gameandnews
Better sound and new functions: The Bluetooth LE Audio specification means a technical leap into the future for wireless headphones and speakers. We explain what Auracast and the LC3 codec are all about.
In the summer of 2022, the Bluetooth Special Interest Group (SIG) started work on the specifications for Bluetooth LE audio completed so that developers around the world can work with it. It is a new standard for the wireless transmission of audio (music, speech) via Bluetooth. "LE Audio improves audio performance, adds support for hearing aids and introduces Auracast Broadcast Audio – a new Bluetooth feature that will improve the way we communicate with others and the world around us," according to the SIG in an official Blog entry about LE Audio.
Be careful not to get confused: there has been a standard called "Bluetooth LE" ("Bluetooth Low Energy" – without "audio") since 2009. This energy-saving version of Bluetooth was developed for wearables (fitness trackers) and sensors, among other things – but it is not suitable for audio signals. "Bluetooth LE Audio", on the other hand, is new and – as the name suggests – intended for the wireless transmission of sounds and music.
What is Bluetooth LE Audio?
With the Bluetooth 5.2 standard, the audio specification LE Audio introduced, bringing improved performance and new features to wireless headphones and speakers. The most important innovations include:
A low-power audio codec called LC3 (Low Complexity Communications Codec), which promises good sound quality even at low data rates.
Transmission of multiple independent, synchronized audio streams with multi stream. In this way, each earplug of a true wireless headphone can be controlled with its own transmission path.
Hearing aid supportwhich should benefit from low power consumption combined with high audio quality.
The broadcast function called auracastwhich implements the principle of "one transmitter, many listeners" in public spaces (airports, museums) and can be used with normal smartphones and headphones.
What brings the codec LC3?
Good sound, especially at low bitrates. "The new coding algorithm already delivers improved audio quality at half the data rate than the previous codec," says Alexander Tschekalinskij from Fraunhofer IIS, who was involved in the development of LC3. However, the aging SBC audio codec will not be replaced for the time being – it will remain in place, so that manufacturers can decide for themselves which codec is to be used and when: "The LE audio specifications will make it possible for products to be both classic Audio (SBC) as well as LE Audio, and many are expected to do so." the SIG in a FAQ. Somewhat disappointing for friends of high-resolution music: Even with LE Audio, there will be no wireless high-res audio, explained Jez Ford from Whathifi.
The codec is LC3 power saving and can go to one longer battery life from headphones and speakers. Smaller batteries and thus smaller true wireless headphones are also conceivable (Source: SIG).
LC3 has one over SBC reduced latency.
Multi-Stream with LE Audio: What does it mean?
With Bluetooth LE Audio can one headphone with several devices at the same time be connected – for example with a mobile phone and also with a laptop. In this way, audio signals can be received from multiple sources without having to jump back and forth between the devices in the settings. In principle, this is comparable to Multipoint Bluetooth, which some headphone and loudspeaker models have been used for years.
Also possible: Streaming to multiple devices powered by a single source. For example, several people with headphones can enjoy the same film that is currently running on a laptop. Apple users are already familiar with a similar feature as "Share audio" (since iOS 13.1), but this is limited to Apple and Beats headphone models. With Bluetooth LE Audio, all manufacturers can offer this function.
Hearing Aids and Bluetooth LE Audio: What are the Benefits?
Bluetooth LE simplifies that Audio transmission to hearing systems in improved quality. With the "Audio Sharing" function, audio signals (sound track) can be transmitted directly to the hearing aid in public places such as cinemas. The volume can also be adjusted or even the desired language can be selected. "We expect that the ease of use and affordability of this solution will result in greater popularity and coverage compared to previous systems," said Dr. Stefan Zimmer, CEO of the Federal Association of the Hearing Aid Industry (BVHI).
Broadcast with Bluetooth LE Audio: One sender, many listeners
"Broadcast" is English and means "to pass on information to a large number of people" – i.e. what is called "Rundfunk" in German. With Bluetooth, the focus has always been on individual audio transmission from a transmitter (e.g. mobile phone) to a receiver (e.g. headphones). With Bluetooth LE Audio are however many listeners provided that itself locally into a broadcast ("Auracast"): Application scenarios are conceivable in cinemas, theaters, airports and other places where many people come together and are interested in a specific "sound track" – be it the film sound or important announcements.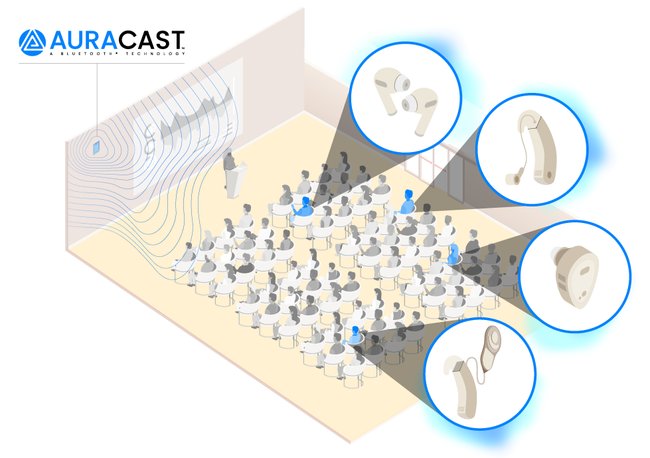 So instead of listening to hard-to-understand loudspeaker announcements at the train station, in the future we might get the information we want sent directly to our Bluetooth headphones or hearing aids. The SIG also promises that individual streams (e.g. different languages) will be possible.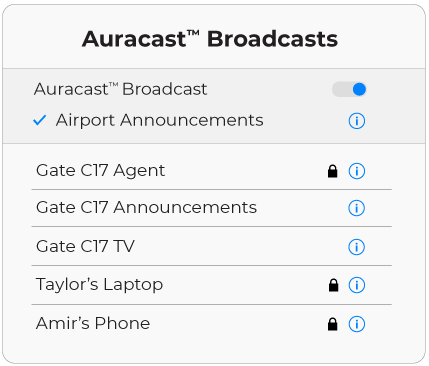 Which smartphones and headphones can use Bluetooth LE Audio? (Compatibility)
For example, the following new headphone models are compatible with Bluetooth LE:
Bluetooth LE Audio is theoretically compatible with all devices that work with Bluetooth 5.2 or a newer version are equipped. This is already the case with some smartphones and headphones (e.g. Sony Linkbuds S at Amazon) – here is an activation of LE Audio via Firmware update possible if the manufacturer provides it. Android 13 supports Bluetooth LE Audio (Source: XDA Developers). Apple could also possibly prepare the support, so the new AirPods Pro of the 2nd generation (view at Apple) presented in September 2022 are equipped with Bluetooth 5.3 – if and when LE Audio will be activated is currently still unclear (as of February 22nd, 2022). 2023).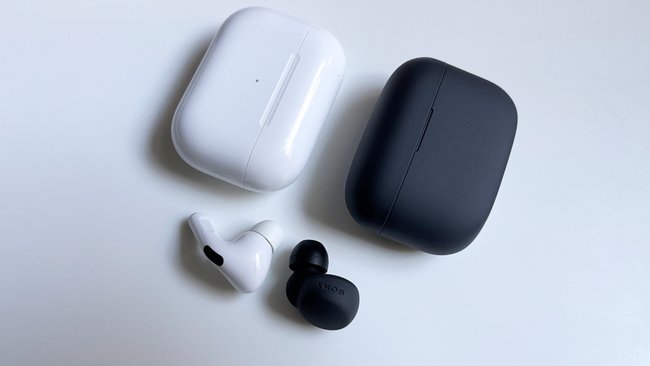 The Bluetooth version of a device can not be upgraded later. Means: A current Apple iPhone 13 (Bluetooth 5.0) is impossible forever, the built-in hardware just doesn't allow it. The Samsung Galaxy S22 (Bluetooth 5.2), on the other hand, would be technically ready. The Samsung Galaxy Buds 2 Pro (see Samsung) recently received a firmware update (Source: Samsung), which at least offers 360-degree audio. According to Samsung, "The first feature in the Galaxy lineup to leverage LE Audio, an advanced new Bluetooth audio standard."
For most users, the following applies: wait until new hardware appears and have the right small change ready. It will be some time before Bluetooth LE Audio becomes widespread.
Don't want to miss any more news about technology, games and pop culture? No current tests and guides? Then follow us
Facebook
or Twitter.