Expensive and packed with cutting-edge technology, flagships like the Galaxy S23 grab all the limelight. However, high-end cell phones are usually not at the top of the sales charts. Even the best-selling Samsung smartphone is no exception. Many know it from Aldi.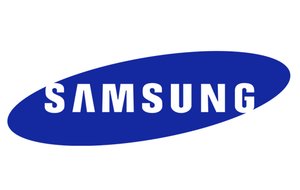 Samsung started the year with a bang. The new Galaxy S23 series hit like a bomb and convinced buyers as well as experts. The Galaxy S23 Ultra, in particular, is said to be selling like hot cakes. However, it is doubtful whether the smartphone will climb the sales peak.
Galaxy A13 is the best-selling Samsung smartphone in 2022
Because a look at 2022 shows that the models in the expensive Galaxy S series have not sold best. This happened most often with Samsung Galaxy A13 over the counter (source: Counterpoint Research). This is the cheap entry-level cell phone that was available in this country from Aldi, for example best-selling Samsung smartphone of the past year.
In the top 10 best-selling smartphones, which includes all models regardless of manufacturer, the Galaxy A13 takes fourth place. Together with the Galaxy A03, which is ranked 10thit is only one of two Samsung smartphones in the ranking.
According to market researchers from Counterpoint Research, the Samsung Galaxy A13 is particularly popular in the Caribbean, South America and India. That's where most of the sales come from.
Tips everyone with a Samsung smartphone should know:
iPhone dominates the top 10
Despite the success of the Samsung Galaxy A13: The top 10 best-selling smartphones are dominated by Apple. The US group secures eight of the ten places with its cult cell phone (see picture below). The most popular iPhone model in 2022 was the iPhone 13, followed by the iPhone 13 Pro Max and iPhone 14 Pro Max.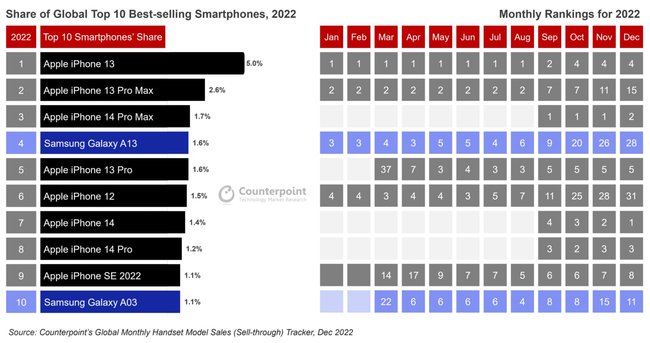 Particularly bitter for the Android competition: Even an aging iPhone 12 still sells better than the flagships from Samsung, Google, Xiaomi and Co.
Don't want to miss any more news about technology, games and pop culture? No current tests and guides? Then follow us
Facebook
or Twitter.