New solar generator creates where all other power stations currently fail gameandnews
There are now many solar generators on the market and the range of functions is also increasing. But one detail is always left out, which covers a new model. There is a special security system for the worst case.
Voltgo PPS1500: solar generator with fire extinguishing system
Solar generators are becoming more and more popular because people want to have a storage battery on the go, at home or in the garden that supplies energy anywhere and can be easily charged. While capacity continues to increase and more features like app control are added as well, there's still the issue of security that worries many prospects. What happens, if the battery is damaged? This is exactly where the Voltgo PPS1500 comes in, which is currently at kickstarters is offered.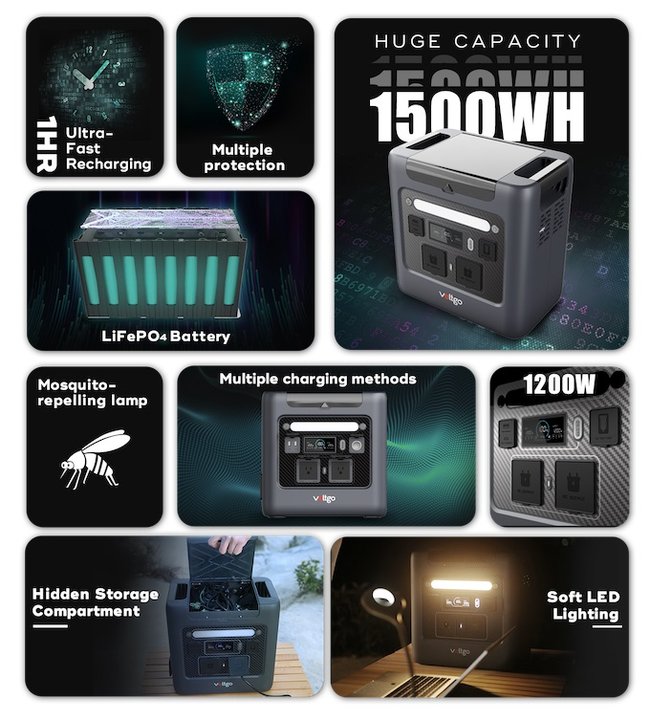 The Voltgo PPS1500 can be charged from the socket within an hour, is available with a 1500Wh LFP battery equipped and can output up to 1,200 watts. Alternatively, it also works with solar cells of up to 200 watts. Then it takes a little longer.
Compared to other solar generators are here all connections covered with caps and therefore protected. I mention this in every test of a solar generator, that it should actually be mandatory. You also have a compartment where you can store cables and a lamp that acts as mosquito protection. So Voltgo has itself really thought about it, where the solar generator is really used when camping and a really clever device was built. Other manufacturers should take this as an example.
The fire extinguishing function is the highlight, because it creates security and is not used in any other solar generator. As soon as the system detects that the batteries are getting too hot, the fire extinguisher kicks in and the batteries are cooled to prevent a fire. Alternatively, you should always put fire extinguishing granules on your batteries so that a fire is extinguished immediately (see Amazon).
The fire extinguishing function of the solar generator is demonstrated in the video:
Voltgo PPS1500 rather not for Germany
The price of the equivalent of 735 euros for the Voltgo PPS1500 is tempting, but the shipping costs are hefty at 230 euros. In addition, we do not know whether you will then also get the Schuko plug with the necessary power.
Don't want to miss any more news about technology, games and pop culture? No current tests and guides? Then follow us
Facebook
or Twitter.