Coolblue has a super bargain where you can get the console with a game for an even lower price than without the game! Here are all the details you need to know.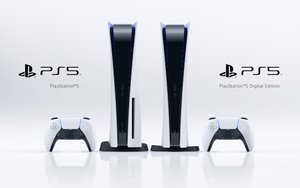 PS5 including God of War: Ragnarök at Coolblue for an incredible €490
Whether it's bundled with a game or solo in the disc or digital edition – the PS5 is no longer a rarity. However, from time to time there are really good snapper offers that we don't want to withhold from you. So now too: The online shop Coolblue offers an exclusive offer for the PS5, where you can get the console plus a game at an unbeatable price. For 489 euros you not only get the disc edition, but also the game God of War: Ragnarök (See offer at Coolblue). Which makes it a real steal considering the console alone costs $549.99. The offer will certainly be sold out very quickly, so don't hesitate if you're interested.
You can get them at MediaMarkt PlayStation 5 also along with the game Resident Evil 4 Remake for 569 euros (View offer at MediaMarkt). The bundle sold out very quickly last time. However, in order to be able to put the NextGen console in the shopping cart at MediaMarkt or Saturn, you must be a MyMediaMarkt or Saturn Card customer. Both memberships are completely free and also offer benefits such as birthday vouchers and special discount campaigns.
That's how you get it disc edition for example:
At Amazon in a bundle with "God of War Ragnarök" for 599 euros (see here).
At Saturn in a bundle with "God of War Ragnarök" for 619 euros (view here).
At Saturn solo for 549.99 euros (view here).
At MediaMarkt in a bundle with "God of War Ragnarök" for 619 euros (view here).
At MediaMarkt solo for 549.99 euros (view here).
PS5 in the tariff bundle: alternative way to get to the console
You need more data volume, but no new smartphone? How about a PlayStation 5 as a premium on the cell phone plan? Here you can get the NextGen console with a tariff in the network from Telekom, Vodafone or o2:
Buy PS5: With or without a drive?
If you're wondering why the bundles are suddenly so expensive, it's not because of the trade: the price of the PS5 is in August 2022 in Europe increased by 50 euros. The all-digital edition now costs 449.99 euros RRP (instead of 399.99 euros), while the model with a 4K drive is sold for 549.99 euros RRP (instead of 499.99 euros) (source: Playstation). But is it worth the extra cost?
PlayStation 5 with disc drive for 549.99 euros RRP: The disc version may cost 100 euros more, but is recommended for PlayStation fans who have a large library of PS4 games on discs and want to keep using them. You can also use the PS5 disc version to play Blu-Rays and 4K Blu-Rays.
PlayStation 5 All Digital Edition for 449.99 euros RRP: With the PS5 All Digital Edition, you're limited to games you buy from the PlayStation Store. If you don't have a large game collection and don't plan to build one up or mainly play free-2-play titles like Fortnite or CoD: Warzone, you can access it here. So you save 100 euros and get a slightly slimmer console.
Buy PS5 on the gray market – on eBay
A big problem regarding the availability of the PS5 lies with the so-called scalpers. These are bots that continuously scan shop pages and purchase consoles as they become available. The bot operators want to continue buying consoles on trading platforms like eBay thanks to the artificial scarcity at a profit. Of course, while the method may seem morally questionable, buying the console at a premium on eBay is an option. However, we recommend that you study the offers carefully for the reputability of the dealer, origin of the hardware, guarantee/warranty and delivery date.
The eBay prices provide an indirect impression of the relationship between supply and demand. We monitor the eBay prices closely, several times a week we determine the best price from reputable eBay dealers for consoles with the condition "new" and the "Buy It Now" option that can be delivered from Germany.
Buy PS5: Essential console accessories
If you were able to buy a PS5, you might want to use it official Sony accessories get the most out of your PS5. The DualSense controller, charging station, remote control, HD camera and headset can make your life easier and your gaming experience more enjoyable.
Also, you need one Top TV, so that the graphics performance of the PS5 can really come into its own. Devices that have 4K resolution, HDMI 2.1, 120 Hz and VRR are ideal. More info in our focus on the best gaming TVs. Here are three suggestions for suitable 4K TVs:
Don't want to miss any more news about technology, games and pop culture? No current tests and guides? Then follow us